Each digital marketing channel is unique in terms of structure, objective, features, or tools, and even the audience it attracts. This raises a very important question: which channel can give the best ROI? It goes without saying that you need to look at the data to help you determine where you should focus your digital marketing efforts.
The data below shows how marketers rank the effectiveness of different marketing channels: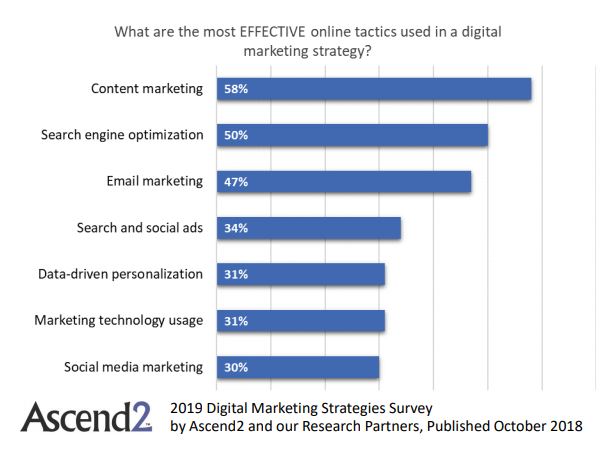 Source: Ascend2 Digital Marketing Strategies Report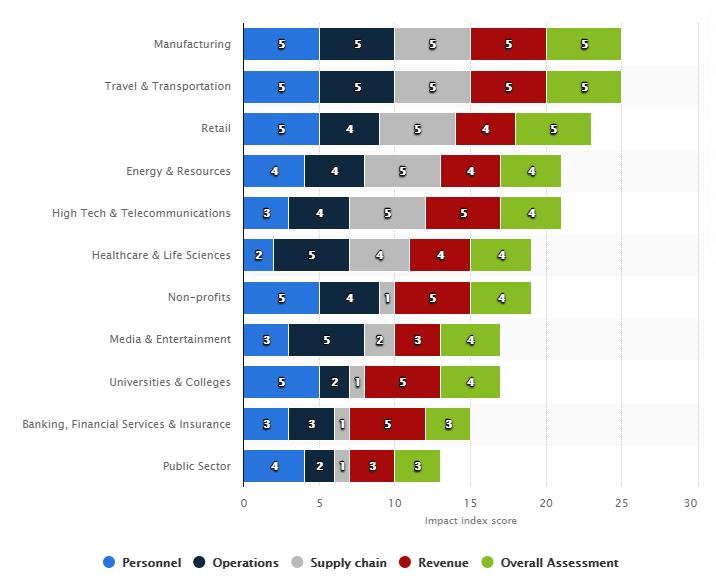 Source: Econsultancy x Adestra 2019 Email Marketing Census
Based on the tactics presented, it's apparent that there are channels marketers find to be more helpful in supporting their overall marketing plan. In this article, we'll discuss why these channels work well and how businesses can utilize them to drive growth.
Effective Digital Marketing Channels
Websites (Content Marketing)
Your website is a must-have tool for your business as it provides you with a dedicated platform where you can educate audiences about your brand, products, and services. This requires a solid understanding of your target audience and an effective content marketing strategy.
Whatever the size of your company, a website can give your business the online presence it needs to communicate and/or sell to prospects. In fact, another study showed that 69% of Americans have purchased an item online. Whether your business is concerned with e-commerce or it's something that's more service-oriented, be it B2C or B2B, you should definitely invest in a website.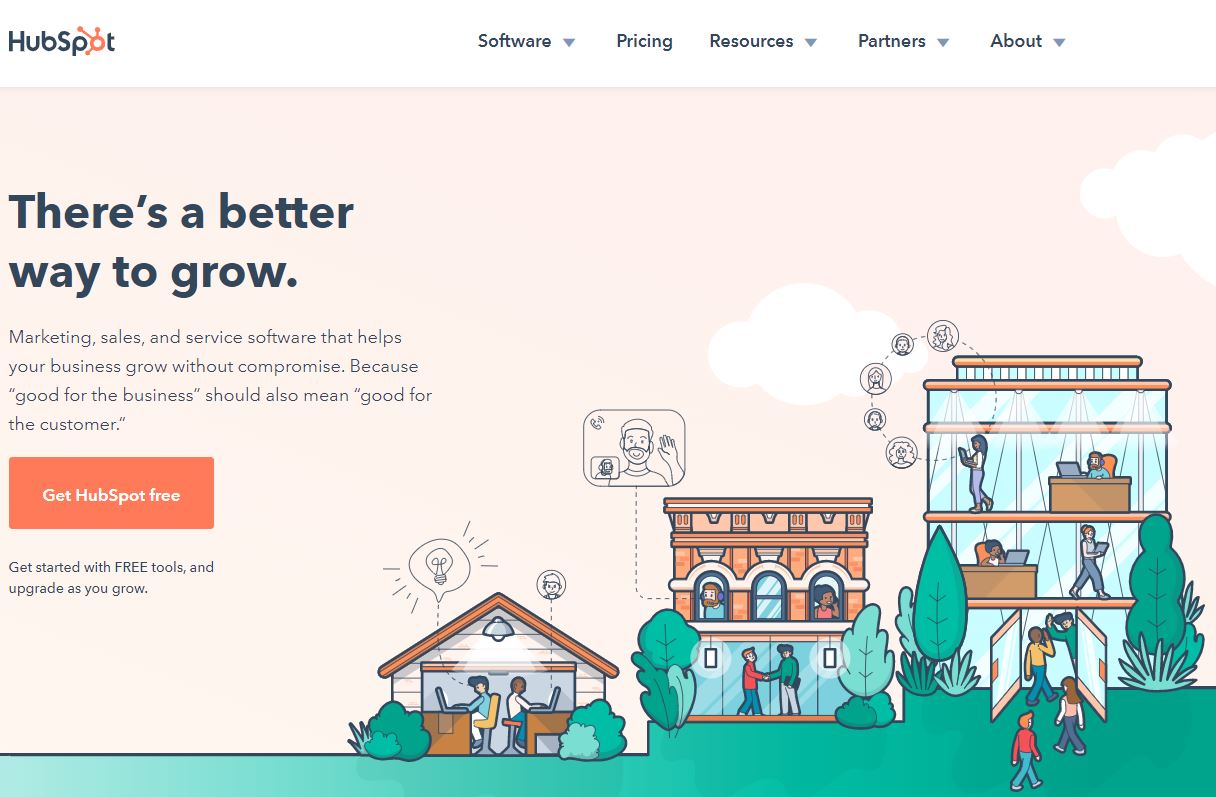 HubSpot Website
Your website is an ideal channel for your content marketing campaigns. Through blog posts and announcements, you can provide existing and potential customers with valuable and relevant content to help them solve their pain points. Because websites have multimedia capabilities, you can easily distribute different types of content—from articles to infographics, and even video.
At the rate that people are consuming content, having the right mix of these top-performing content types can exponentially increase your site traffic and engagement. Ultimately, this can result in better brand recognition, authority building, and new sales opportunities for your business.
Email
There are several reasons why it's so hard to dislodge email as a channel that delivers medium to high ROI for your business, but the one thing you can't take away from email is its versatility. Although email may not be the newest technology available, it allows you to apply the latest trends in content marketing, such as personalization and automation, without hurting your marketing budget.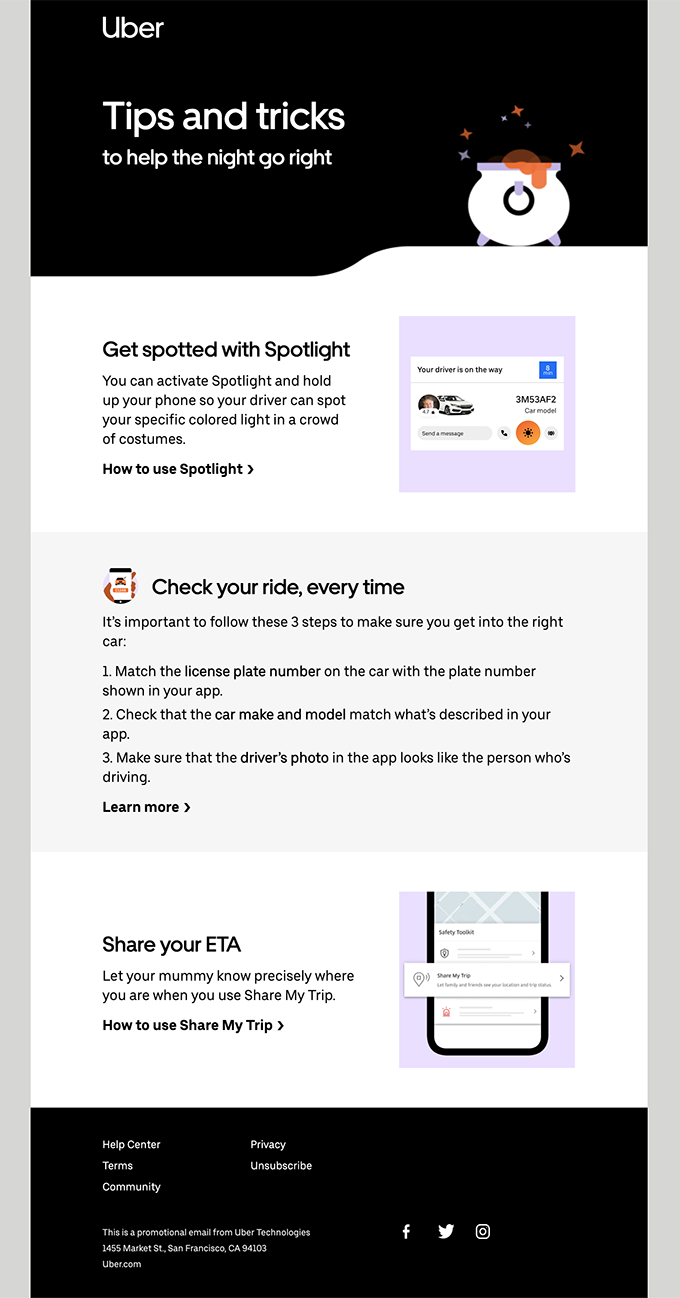 Halloween marketing email from Uber
Email also has the ability to support other marketing objectives, so it's no surprise that 73% and 63% of B2B marketers say that email is their top tool for generating leads and driving revenue, respectively.
Beyond lead generation and revenue, email helps you in many more ways as follows:
Social Media
Social media marketing is on this list for some very worthwhile reasons, but this isn't just about social media users reaching the 3.81 billion mark. From being a channel that people use to establish personal connections, social media has evolved into something grander, bigger, and better than what it was originally envisioned to be.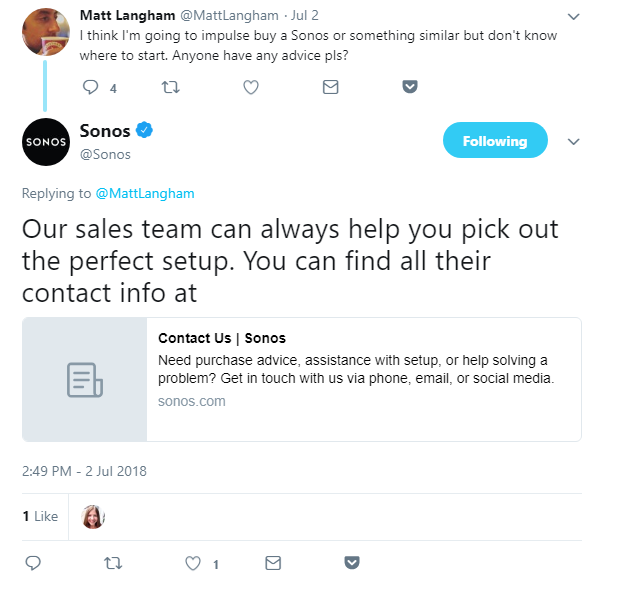 Sonos using the power of social selling on Twitter
These days, you can reach out to potential buyers by engaging them in a more personal and authentic fashion. As such, it's easier to direct your efforts toward organic social media marketing since the platform was initially designed to foster interactions rather than sell to your prospects.
You must invest time in cultivating relationships with your target market as you try to understand the needs and interests of your buyer personas. Ultimately, this can help you generate highly qualified leads on LinkedIn, Twitter, or Facebook—which account for driving 80%, 13%, and 7% of qualified B2B leads, respectively.
Although this can directly drive sales, you should remember that social selling isn't really about selling at all, so prioritize building a strong, positive relationship.
Organic Search (SEO)
Did you know that over 75,000 Google search queries are performed every second? Just imagine how many people are searching on the internet! Given that people use search engines for research, shopping, and entertainment, the opportunities for businesses are huge!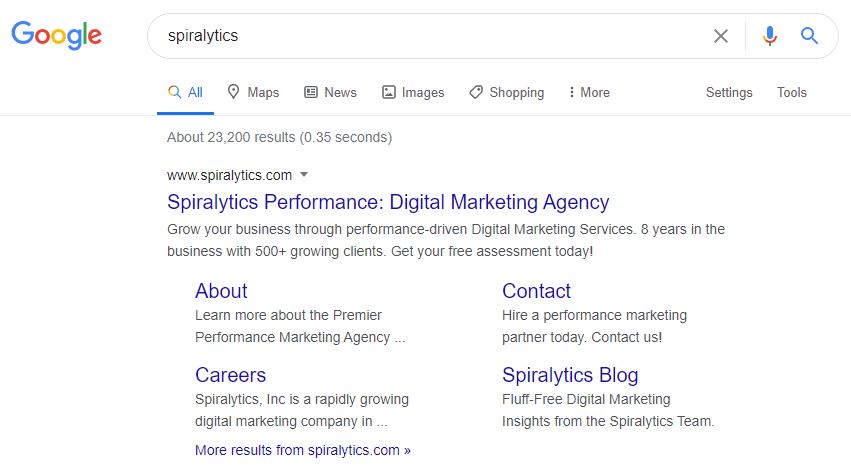 When prospects or customers look for products or services, they'll tend to go with whoever ranks higher. Standing out from the competition at this stage means that you'll be capturing new opportunities organically, driving a consistent flow of leads down your sales funnel.
As long as you adopt modern SEO best practices—keyword research, blog post optimization, and linkable content creation—improving rankings on search engines will come a lot easier.
Paid Search (SEM)
On the surface, it might seem inconceivable that paid search (also called SEM) will have the potential to give you ROI. After all, you're paying for each click you get, unlike SEO, where people find you organically (and technically for free).
The advantage of using paid search is that your ads are shown above organic search results, making them more visible to users. Even if you have to pay for every time a user clicks on your ad, there's still a lot of value—monetary and otherwise—that can be had from paid search. Being above organic results means you're still capturing that engaged searcher before they even have a chance to see their other options (your competitors).
For every $1 you spend on Google Ads, you can earn an average of $2 in return. That's 100% ROI right in the bag. It's also been found that PPC results gain 150% more conversions than organic visitors. Clearly, paid search could very well represent a win-win situation for your marketing campaigns.
Mobile
The number of mobile phone users is increasing by the day, and this trend is expected to continue in the years to come. Because of this, it only makes sense to serve promotional content to mobile users. And thanks to geo-targeting strategies where location information is used to recommend products or services more conveniently, customer experience can be consistently improved as well.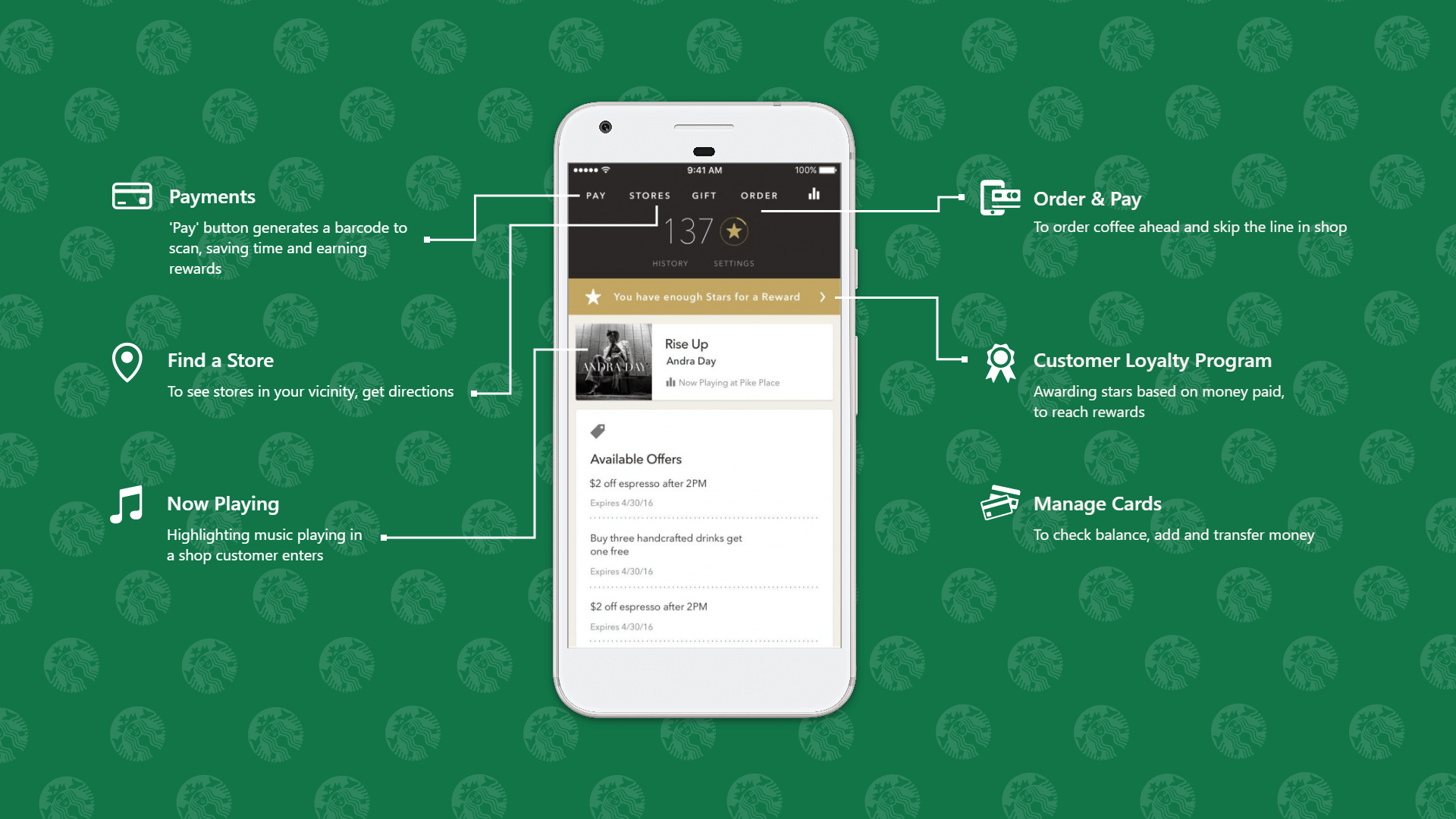 The Starbucks mobile app boasts features that support their sales operations. – Source
Smartphone users are also spending 90% of their mobile time using apps and games, which makes mobile apps a profitable marketing channel. Last but not least, mobile can collect customer data, which you can then use to map out a mobile marketing strategy that produces results.
Display Ads
Display ads allow you to use images, audio, and video to communicate your advertising message better. These are shown on websites, email platforms, social media, and many other digital channels that offer ad placements, usually in the form of a banner.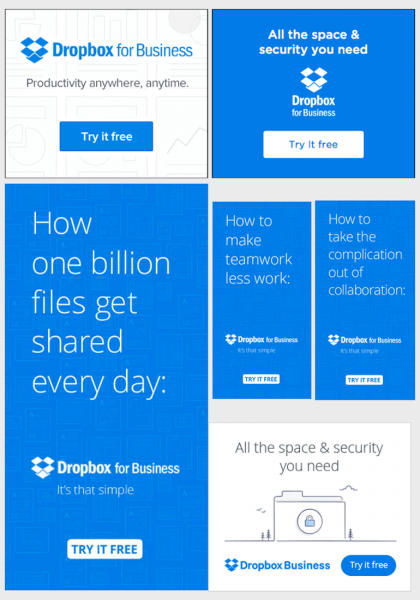 Dropbox banner ads have clean designs that drive brand awareness and draw people in with great USPs. Simple yet effective. – Source
Compared to search ads, display ads generally have lower cost-per-click since there's more advertising space available across the web than on a search engine. The core difference is that you don't target keywords. Display advertising success depends on how well you can match your ad to the host website's audience to drive conversions.
One of the great things about display ads is their ability to track users for retargeting. For example, if a user lands on your website and doesn't convert, you can track them with a cookie and retarget them with a relevant display ad later on. It should be no surprise to know that with this much contextual relevance, you'll be generating a lot more conversions at a lower cost-per-click (CPC).
The Best Channels with the Best Results
The various digital marketing channels work differently from one another and, therefore, will give you different results. Additionally, what works for one brand might not necessarily work for you. The ideal scenario is that you test different channels and strategies to see what combination suits you best.
Take time to measure key metrics and analyze if the results you're getting are helping you maximize your ROI. Otherwise, don't hesitate to adjust your marketing game moving forward.