Sales and marketing will always be the two core players in any company. In a perfect world, these two would team up for world domination. 
Then again, it became a norm for sales and marketing to be those two teams that don't really get along. How often do we witness the classic 'sales vs marketing' drama from most companies? We often hear marketing say: "Sales waste the leads that we're sending their way." Meanwhile, sales would rebut: "The leads they sent are useless. Not even worth following up!"
In theory, to attain positive business performance the two departments should be in perfect sync.
Like Hermann Hesse said, "If you hate a person, you hate something in him that is a part of you." It makes sense because both these departments have so many things in common. The biggest one is that they're working towards a common goal which is: for the company to grow.
So let's have a look at what each department's responsibilities and sort it out from there:
The Marketing Department:
Is in charge of promotion and finding new customers, but they do more than that. They have a more integrated and comprehensive role in the company – from customer research, product branding, pricing, advertising, and website redesign, to PR and events. This is a department that has to know the company in all of its entirety and has to get updates on everything that involves the customer and the product.
The Sales Department:
Is involved with closing deals and raking in profit. This entails everything from cold calls, sales proposals, and attending client meetings. Yet, this department knows the customers and clients the most, which brings us back to why there's a need for marketing and sales to work together. For the marketing team to promote the product well and bring in qualified leads for sales to close, they have to know the market thoroughly.
Where Sales and Marketing Misalign
Whether you're in the mobile phone industry, a SAAS company or you're already a digital marketing business selling white label SEO programs, you will eventually witness (if you haven't already) drama and complaints coming from both teams. Here are some of their woes:
Marketing:
Sales team always complains about the lack of leads.

Sales is not closing enough leads.

Marketing team is providing them with double the number of leads, so why aren't they able to close? Sales team is arrogant.
Sales:
Marketing team doesn't send us qualified leads.

Marketing team argues about lead quality.

Marketing metrics are confusing.

Marketing thinks sales is easy.

Marketing isn't giving sales information before they're launching promotions.

Marketing department is wasting money.

Marketing team isn't doing anything.
How to get them to work together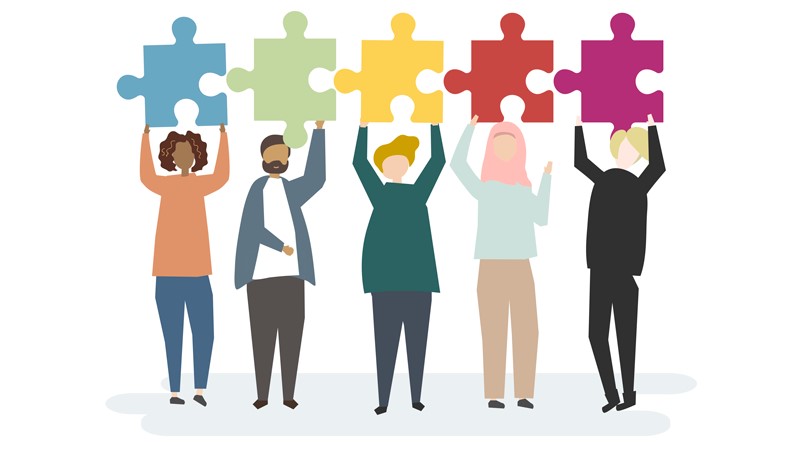 There are a number of cases where marketing and sales have successfully worked together. Research by Marketo.com showed that when marketing and sales work together, businesses are 67 percent better at closing clients. 
What happens when the sales and marketing teams are misaligned? Simply put, chaos. 
They may target different leads. They will continue to exert unnecessary effort and they will spend the budget on areas that could've been minimized if only they worked together. Wasted time and resources will occur if they continue to misalign.
So, how do both teams find balance?
Sales and marketing essentially have one goal. The company's growth. The cycle should go like this: The content shared by the marketing team to the clients should be shared with the sales team,  while any report and feedback that the sales department gets from the clients should be passed on to the marketing department. This ensures the marketing team releases accurate and rich content to generate leads for the sales team to rake in the qualified leads and close them.
Keeping this in mind, any goal set by each department should be relayed to the other. This ensures that even though their KPI's and objectives may vary, they will still be able to keep track of each other and stay on the same page.
Example of Sales Goals

Example of Marketing Goals

Convert more sales to qualified leads

Increase revenue

Increase number of demographics

Increase traffic

Increase conversion rates

Get more social media engagements
Note: Whether you're setting goals for marketing or sales, remember to keep your them Specific, Measurable, Achievable, Realistic and Timely.
Formulate the buyer persona together
It helps to coordinate with each other in determining the buyer persona. Since it's the marketing team's responsibility to know the customer in order to determine who to target, it's a fact that the sales team deals with the clients every day, thus they know them the best. Who they are, their personalities, their woes and pain points.
Formulate the buyer's journey
Mapping out the buyer's journey is not only the responsibility of the marketing team. Coordinating with the sales team will allow your sales manager and representatives to give information based on their experiences. This can immensely help with how they approach and communicate with the customers.

Show your marketing department the sales process
The best way to make people understand is to show them how it happens. Have your marketing people shadow your salespeople so they can witness how they close a client. This will give your marketers an opportunity to witness the buying stage and them visualize the sales process. Similarly, sales can also learn something from marketing that can be beneficial in handling customers.
Collaborate with sales to create promotional materials
Studies show that 95 percent of closed deals come from a company who gave out content at each stage of the buyer's journey. Content is an important aspect of selling nowadays. More often than not, purchasing begins with content.
Have your marketing team help out your sales team in releasing valuable materials to boost their credibility.
Coordinate on setting KPIs
Marketing and sales can set the same KPIs but for different purposes.
Sales KPIs

Marketing KPIs

Sales growth

Customer acquisition cost

Customer lifetime value

Lead generation

Lead to sales

Sales target lead to conversion ratio

Revenue

Profit margin

Sales acquisition duration

Organic Traffic

Sales growth

Traffic, leads and conversion rates

Lead generation

Sales revenue

Cost per lead

Customer acquisition cost

Customer lifetime value

Traffic to lead ratio

MQL to SQL ratio

Email marketing performance

Social media traffic

Sign-ups
Having the same KPI doesn't necessarily mean you both have the same goals. Marketing can use a certain KPI for a different cause or motive and sales can also do the same. 
Note: Marketing qualified leads or MQLs are leads who have signed-up with their emails. They are the ones who marketing have dubbed as potential customers.
"Sales qualified leads or SQLs are leads who sales have the biggest potential of closing."
Brief each team with corresponding strategies
It's a no-brainer that the sales and marketing team are operating in a single body. Like how the arms and legs are designed to do different things yet both aim to always accomplish similar goals. The same goes for the marketing team and sales team. They need to give each other insight into their strategies and plans. This way, even if they have different functions, they will always be coordinated in meeting their mutual goals.
Setting weekly and monthly meetings
Make sure that each department is updated with what the other is doing. Plans and strategies always change, and it's important to keep track of these changes. This is the time to lay out what's working or what needs to change. This is also a great time to give feedback and voice out any questions or criticisms as well as suggestions. In a way, this is a great way for both teams to bond.
Final Words
No gap should be left unfixed. Like anything in life, unity can accomplish incredible things. When it comes to sales and marketing, they can reduce costs, improve metrics, and extend a positive effect on the company, the client, and the culture.