Content Marketing being a huge deal this year is a given. We all know how important content marketing is to rank better, to be more visible in search and social media, to build up authority as a thought leader, to educate and inform both existing and potential customers.
We also know how competitive it has become and how much harder it is to stand out.
That said, Content Marketers are more convinced than ever to commit to Content Marketing and come up with better and more creative strategies this year.
CMI released their 2020 B2B Content Marketing Report which shows important findings on how content marketers have grown and progressed over the years, and what it takes to be successful in this ever evolving digital age.
Of all the B2B organizations that implement Content Marketing, 69% claim that compared to one year ago, their approach has become more successful.
Based on the data, we've derived three factors that are absolutely imperative to achieving Content Marketing success this year and beyond:
Clarity

.

Know what "effective" and "successful" content means to your business, identify and measure goals, know your buyer personas, have a documented content marketing strategy. At this point, many of us have matured in our approach and have sophisticated processes in place. To those who are just in the earlier stages, it's even more important to document your strategy and track results. Clarity will affect many aspects in the business–from management to operations to staffing to budget to the actual implementation. Without clarity in your strategy, you're like driving blind without directions to an unknown destination.
Commitment

.

CMI notes that one of the biggest differences between successful content marketers and those who aren't is the level of commitment. 93% of top performers prioritize delivering relevant content compared to 37% of the bottom performers. Incidentally,

stagnant success is attributed to not having enough time, content creation and strategy issues, organizational and budget, and the lack of priority. Heads up, it's ALL or nothing with Content Marketing this 2020! If you lack focus, if it's not your priority, if you're not convinced to put in the necessary budget and manpower, as

Joe Pulizzi suggests

, then don't do it at all.
Consistency

.

69% of top performers have a documented content strategy to find success in their effort. In hindsight, when you're committed to your content strategy and have clarity in your end goals, consistency naturally follows. Producing content weekly or twice or thrice a week doesn't matter, the important thing is to be consistent.
As you read through the following trends and strategies below, keep in mind the 3 C's:
Clarity, Commitment, and Consistency.
Given these criteria, you think you have what it takes to get into the Content Marketing track and win?
There is no perfect recipe in content marketing. Every business model, niche, buyer persona profile, even geographic location all play out in crafting a strategy that's specific to your business. This is the reason why you have to be clear with what "effective" and "successful" means to you.
But setting aside the specifics, here are overarching trends to think about as the big players become more advanced in their approach.
1. Create more content
In the past year we've seen marketers shift to the "less is more" approach, where experts recommend publishing less content but with longer format and greater quality.
"Quality over quantity" is what most content marketers said all year, suggesting that blogging less is key, and blog posts with over 1,500 words perform better over-all.
But back in 2016, Steve Rayson of Buzzsumo himself admitted that they could be wrong about creating less content and that the future of Content Marketing may in fact be in publishing more.
While there's an ongoing debate about this (such as this article which is the basis of Rayson's introspection), it's important to note that for B2B content marketers, content creation is by far the largest area for marketing investments (56%).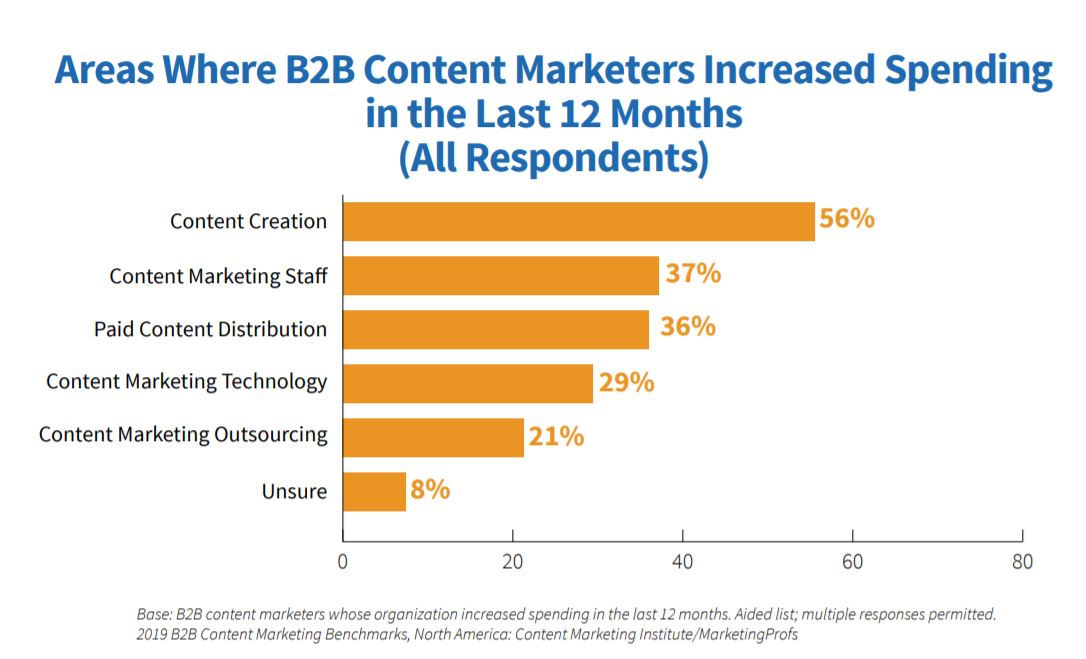 As an agency that implements Content Marketing strategies for companies in various industries, we don't take content creation lightly. We know how hard and challenging it is to create a piece of high quality and relevant content, and how to find a somewhat unique spin to given topics. Not to mention, we know how tough it is to get this piece of content in front of the right audience.
This means a lot of work and a lot of resources, but once again, when our clients are clear, committed, and consistent, when they involve themselves in the content creation and distribution process, we can assure them of long term gains.
But "creating more content" doesn't only mean blogging more. This 2020 we will see even more variety and experimental content types from marketers to address the ever changing trends in content consumption.
2. Integrate video content to your strategy
Videos and webcasts are quickly becoming one of the most popular content mediums. 71% of B2B marketers built and used video content in the last 12 months. Furthermore, B2B buyers have also implied that they prefer consuming content in video format.
59% of executives would rather watch videos than text
75% of executives watch work-related videos on business websites at least once a week
92% of mobile video consumers share videos with others
90% of users say that product videos are helpful in the decision process
1 minute of video is equal to 1.8 million words
For B2B companies, this means one thing: Video content has much less competition because only a few dare to do this approach, or only a few would bother. If you do video content well, there's a wide open lane for you to get ahead of your competition and get better results. 
There are two types of video content that will dominate this 2020:
Interactive video content
As Google shifts to a more localized and personalized search, marketers are also challenged to create content that gives audiences a "personalized" experience and interaction. We see more and more brands and thought leaders using live video tools like Facebook live and Periscope to interact with their audience. 
While these types of content are mostly "one way", your viewers can, at the very least, interact with you by firing up emojis and posting comments real time. This interaction humanizes your brand, giving your viewers a glimpse of the culture and the cast of characters behind your company name. 
Short-form, short-lived content
If there's one thing Snapchat and Instagram stories has taught us, it's that, a certain generation of people (ehem, millennials) actually dig these quick, short-form content types.
As marketers, we've always focused our effort on evergreen content, content that we can keep on promoting over and over, that which stays cached in Google forever, those that will gain us long-term results.
But short-lived content–the ones that are gone in 24 hours–has proven to attract quite a unique following. There's been sustained growth in Snapchat's user base over the years.
Snapchat videos are now viewed more than Facebook views. 14 billion views for Snapchat vs 8 billion for Facebook.

Snapchat now has more active users (200 million) than Twitter (125 million).

90% of its audience are 13-24 years old
Snapchat has been so successful that we've recently seen Instagram jumping in the "ephemeral" content bandwagon with its very own Instagram stories.
Now what does this mean for B2B marketers? I like what Gary Vaynerchuk said.
Snapchat will be an excellent place for B2B players who act like media companies – media companies that create stories to bring value to their end users. Those players will find their niche and their audience, allowing them to disproportionately pick up business. Meanwhile, their competitors will still be debating the ROI of Snapchat. And they'll be left behind if they can't adapt and evolve with the evolution of these platforms.
Once again this falls into your company's level of clarity, commitment and consistency. Don't even start Instagram Stories or Snapchat if you're jumping in half-hearted. Know why it fits in your niche or business model, set your mind to doing it, and test results.
3. Create content specifically for mobile users
The growth of mobile usage is something that is not to be overlooked. In our recent post on SEO Trends, we discussed how to optimize websites for mobile search. This includes making your pages load faster, responsive to popular mobile browsers, with great attention on user experience.
But more than just setting up your pages to be mobile compatible, marketers have to know the kind of content their buyer personas consume on their mobile devices.
Mobile search has opened up an entirely different world of impulsive search activities, which Google aptly calls "micro moments". This only means that users turn to mobile search specifically to fulfill an immediate need or an immediate answer. As Content Marketers, we need to create content that addresses these micro moments. 
I-want-to-know moments
I-want-to-go moments
I-want-to-do moments
I-want-to-buy moments
There's a wide range of content ideas for these micro moments, depending on industry trends or business model. As B2B marketers, this means going deep into your customer journey and addressing their immediate questions and needs.
Social media users are usually on their mobile devices, and with over 2.9 billion users forecasted for 2020, it's safe to assume that social media usage will continue to grow as well.
Social media has always been at the core of any Content Marketing strategy, specifically in the content promotion front. However, your social media accounts shouldn't just be a place where you appear when you have new content to promote. Being active in social media—engaging with your followers and reaching out to influencers and peers—will continue to impact businesses this 2020.
More so, creating content specifically for social media is integral to reaching the mobile people. This means carving out time to create Instagram and Pinterest worthy graphics, Facebook and Snapchat videos, and 140-character Twitter words of wisdom.
4. Balance gated and un-gated content
Gated content is one of the most effective lead generation strategy used by Inbound Marketers, and it will continue to do so. The idea behind gated content is simple—you ask visitors to sign up a form in exchange for an informative piece of content (usually an ebook or a PDF file), one that is highly targeted to a specific buyer persona. When someone trades his/her email address as a show of interest, he/she begins a journey through your marketing funnel.
This year, however, we have seen a few discussions on whether or not gated content does what it needs to do. An SAAS company called Drift decided to intentionally remove all the forms (hence removing all the gated content) from its site sometime in the second half of 2016. 
While most of Drift's reasons for taking off their lead forms are true, it's also true that knowing who's reading your content is more important than ever this 2020.
Gated content and personalized user experience
Personalized content is going to be huge this coming year, and one of the ways to know your readers is to secure their email addresses in a natural way. As they move through the buyer journey and you get more clues about their profiles, you're able to create content that's more specific to their requirements and preferences.
In relation to this, pop-up forms are stripped off Accelerated Mobile Pages (an important initiative by Google that intends to make websites load fast fast and more mobile-friendly), which validates how important it is to be tasteful and strategic when it comes to lead generation forms. 
The key is in finding a nice balance between providing free un-gated content and gated content, and using these formats to create a pleasant, uninterrupted and personalized user experience.
5. Consider Content Marketing as an ongoing business process
What many companies still fail to see is that Content Marketing is not a mere "campaign" or "department". In hindsight, your content marketing success will ultimately depend on your company's level of dedication, on whether or not Content Marketing is a priority or something that you just set aside when you have "more important" things to do.
One quick search at digital marketing trends for 2018 and you already know how fierce the competition is going to be. Busineses are putting the bigger chunk of their ad spending online. Big B2B companies are hiring hundreds of Content Marketers. Brands are becoming publishers.
As more content and more content types fill up your space in the web, you can't expect success if you're not dead set on winning. Or like, if you're "settling" with your one-man Content Marketing team. You need help, and the whole company has to be on board. Whether you outsource your Content Marketing strategy to experts or you build a team in-house, you have to treat content marketing as a necessary business process and not just a sideline gig or a fleeting marketing campaign.
6. Most of all, be better at blogging
Even with the massive influx of blog content in the past year, blogs are still the number one content type that is perceived to be important for B2B marketers in 2020.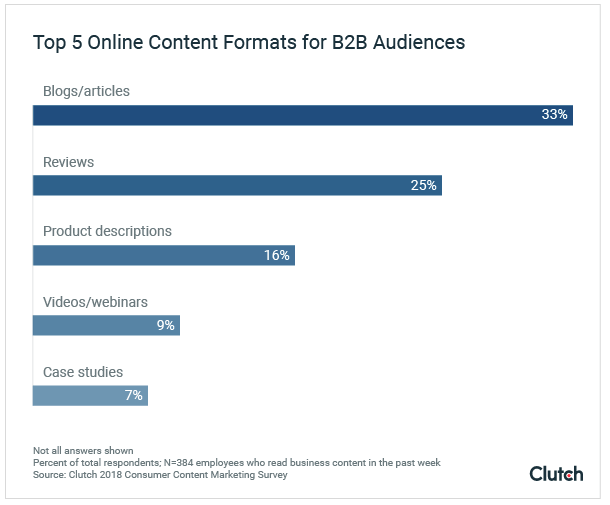 Incidentally, this is also one of the insights reflected in the State of Inbound, where blogging remains to be the number one priority of Inbound Marketers. Business blogging is staple, but as blog consumption evolves, diversifying content is important to keep the attention of your readers, and to expand your reach.
This means diversifying content and experimenting on other rich media content types (as mentioned above) should complement your blog strategy.
Is your Content Marketing Strategy ready for 2020? Message us. Let's talk.