Before you can come up with a content marketing strategy for your clients, there's one thing you need to put together first: a content editorial calendar. An editorial calendar organizes the schedule of content that you plan to produce for your clients each week or month.
In our case, an editorial calendar has guided us through our content development process, keeping everyone in the loop and helping us coordinate with key persons involved in each post.
What Does Your Editorial Calendar Look Like?
We love HubSpot's blog editorial calendar; in fact, we also use it as a reporting tool for some of our clients. However, as our requirements evolve, we find the need to customize an editorial calendar for our own use.
This is a screenshot of Spiralytics' editorial calendar:

As you can see, we use a Google spreadsheet that's pretty simple and straightforward. Some organizations like Buffer use the board and card style of Trello for their social blog editorial.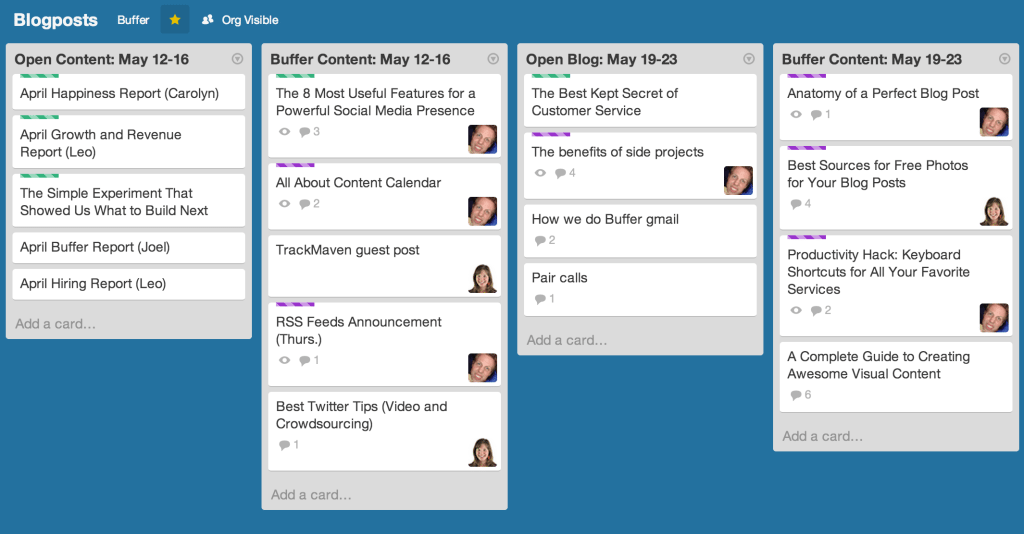 Our content editorial calendar doesn't have such columns as blog category, blog details, and call-to-action because as we work on our editorial tasks, we learn that those columns hardly get filled up at all. Instead, our editorial calendar only reflects the following details that are essential to get our content creation going:
Author—Since we have multiple authors, we use this column to prompt our writers about their assignments.
Client—This is important for teams that have multiple clients. We used to have a separate spreadsheet for each client, however, we find it really helpful seeing all content deliverables for all clients in one screen.
Publish Date—These are the dates we plan to publish our content, by hook or by crook. Needless to say, this column is never left blank.
Blog Title—This column indicates what we want the content to deliver and includes the keywords that we want to target.
Target Reader—This refers to specific reader personas or industries that we want to engage with our content. Our target readers may be business owners, SEO professionals, content marketers, bloggers, and other potential clients of digital marketing services. By identifying our target readers, our writers are able to customize their writing style and perspective for the people who will be using our content.
Writing Point of View (POV) and Tone—We typically use the second person POV (you; your; yours) to directly address the target reader in a friendly or conversational tone. Nevertheless, we expect our writers to also convey a sense of professionalism in the way they write.
Outline and Notes—We fill this up with the outline that we want the writer to follow, so the content is well organized and focuses on a particular angle that we want to explore. This is also where we leave special instructions to the writer, such as when we want the writer to provide alternative titles for the article.
Deadline—We prefer to have at least 3 days to go over the content for editing and QA check, so we set a deadline for writers a week before publishing.
Keywords and Links—This section indicates the keywords that should be included in every blog post along with the URL of the homepage or specific landing pages of a website.
References—Here, we list all the online resources that writers can use to research about the topic that they need to write.
Status – Lastly, my personal guilty pleasure, tagging a post with "Published" when the post has gone live. Other statuses we normally use are "Ongoing" or "For editing/QA".
The other thing that I love about this customized editorial calendar is that we get to sort columns according to how we want to view it (i.e. by Author or by Client). In the screenshot below, I sorted out the cells by Author, and I see in one group all of the topics assigned to me: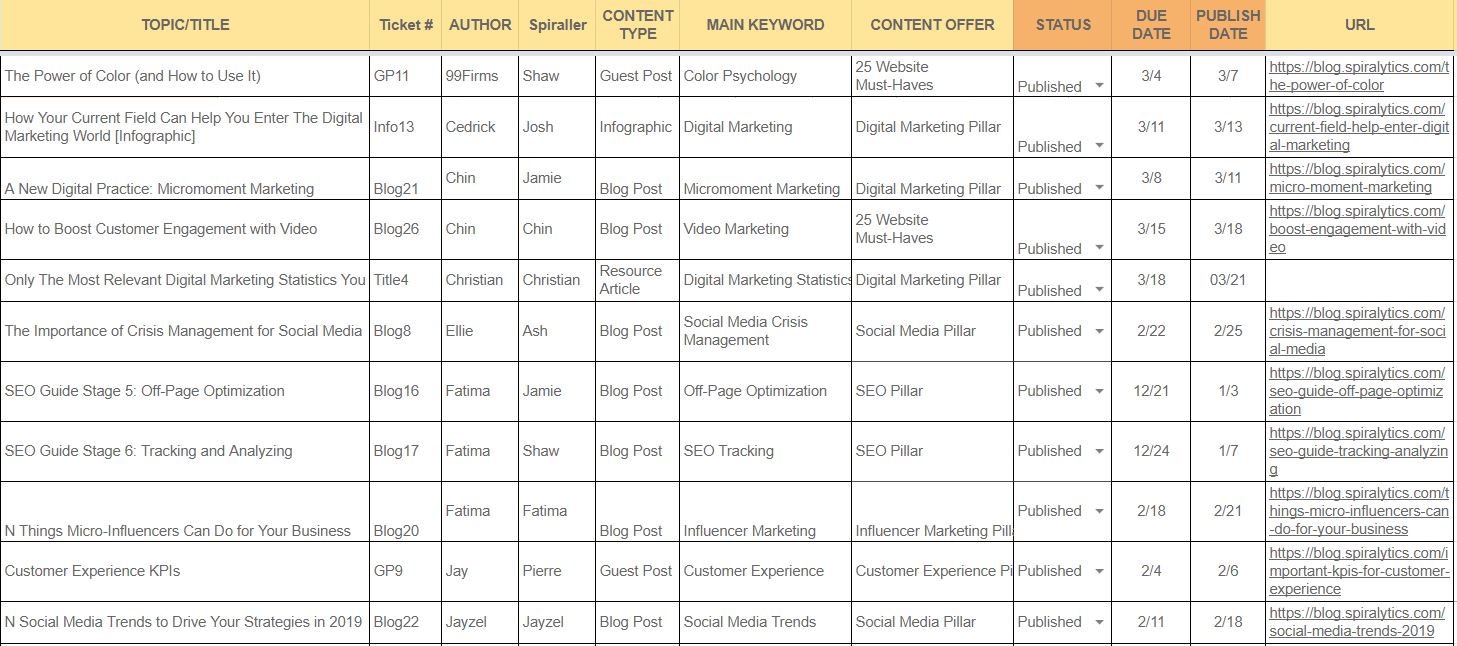 Sorting and filtering are not possible with HubSpot's editorial calendar because of its merged cells and styling. Still, Hubspot's editorial calendar is great for presenting to clients, and you can download their free template.
Tips for Managing a Content Editorial Calendar
You can choose from hundreds of tools to set up your editorial calendar, but your main considerations should always be functionality and ease of use. Go over your editorial process and check which of the available tools out there have features that are best suited or can be tailored to your needs. At the same time, you should pick something that's easy to master since your team will be using it most of the time.
Use a color-coding scheme
Color-coding makes it even easier to sort the different sections or columns on your calendar. For example, you can color blog entries that have a critical deadline in red, so that you're easily able to draw the concerned people's attention to it as soon as they open their copy of the calendar. Whatever color-coding scheme you implement, make sure that it's uniform and clear across the team.
Set a schedule and stick to it
Don't let your efforts go to waste by setting up your editorial calendar only to abandon it halfway through the content production process. While it's normal to adjust deadlines or have your content go through the necessary revisions, you can anticipate these kinds of things early on to avoid having to make multiple changes to your calendar every so often.
Wrapping Up
In the end, the idea is to create a system that works specifically for you. Don't feel forced to conform to certain practices if they don't work for your circumstances. Keep customizing and improving your editorial calendar and eventually, you'll end up with something that's perfect just for you!