When it comes to digital marketing, small businesses have their work cut out for them. Ranking for popular industry keywords on the search engine results pages (SERPs) can be a near-impossible task when you're up against big names.
So, is search engine optimization (SEO) still relevant or even worth it for small businesses? Definitely!
Specifically, local SEO is the key to tapping into your most powerful market: your local community. With local SEO, your brand can remain competitive in search results thanks to geographical relevance.
Why is SEO Important?
SEO aims to provide users with relevant and reliable organic search results. The importance of SEO for small businesses is that it makes brands more visible to consumers who are already looking for something−a product, a service, etc. With Google receiving 5.6 billion queries a day, your next customer could be a click away. By optimizing your webpage for search engines, you're able to reach a wider audience and potentially close more sales.
What is Local SEO?
Local SEO is a collection of strategies and actions for businesses to improve their visibility to users searching in a local geographic area. It is particularly valuable for brick-and-mortar offices and stores like restaurants, boutiques, laundromats, law firms, and clinics. Local SEO is also excellent for service-area businesses like construction workers, plumbers, and other professionals who travel to their customers.
What sets local SEO apart from traditional SEO is the search results' scope. For traditional SEO, web pages are ranked on a global scale. On the other hand, local SEO is ranked based on more specific and localized factors.
Local SEO Ranking Factors
Alongside traditional ranking factors, local SEO ranking factors focus on three key aspects: relevance, prominence, and proximity.
Relevance is a significant factor in both local and traditional SEO. Your business needs to be targeting keywords and topics that your potential customers are searching for. Listing your business under the correct categories in directories, adding your chosen keywords in descriptions and content, and creating content based on your business' expertise are just a few ways to ensure that Google associates your business with relevant keywords.
Prominence
Prominence refers to your brand's overall presence and how it stands out from other similar businesses. Your brand needs to convince the algorithm that your business exists and that it is trustworthy. Building local links, increasing online mentions and reviews, and being active on social media platforms are a few ways to signal trustworthiness.
Proximity
Proximity, or how close your business is to users, is the factor that separates traditional SEO from local SEO. Users doing local searches are more likely to buy from or avail of services from businesses near them.
Three types of searches tell Google your proximity to users are geo-modified, non-geo-modified, and 'near me'.
Geo-modified searches use the name of the city, neighborhood, or even the zip code in the search term itself.
Non-geo-modified searches leave out these location details from the search.
'Near me' searches specifies nearby results by adding the words 'near me' or 'nearby' to the search.
Knowing this, local link building, localizing review content, and creating local content are some of the ways you can help demonstrate your proximity to users.
Local SERPs
Local SEO ranking factors help determine the local search engine results. When users enter a search query with local intent, the search engine can generate different results. The local SERP can vary depending on the keywords used.
The SERPs are displayed in two categories: the local organic search results and the local map pack.
The local map pack is also known as the local pack, '3-pack', or 'snack pack'. These are the business listings displayed below the local map when you do a local search. Think of it as the local equivalent of a featured snippet, except instead of displaying a segment of content, users are shown details such as opening times, review ratings, and contact numbers.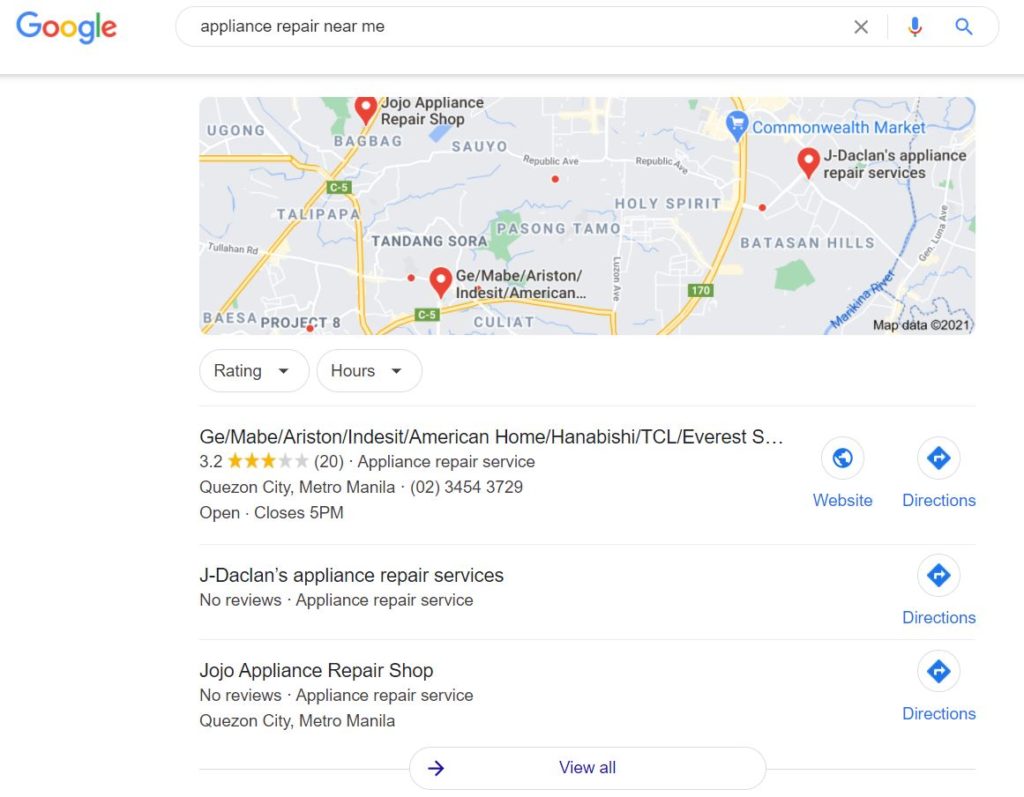 Clicking on a listing under the map pack brings users to additional features, including photos and other content from the business' webpage. These local pack listings take these rich details from the company's webpage and its Google My Business profile. 
What are the Benefits of Local SEO?
To put it simply, local SEO helps get your essential business details in front of users searching for local solutions. To be more specific, these benefits include:
Attract more qualified traffic to your website
86% of people rely on the Internet to find products or services near them. Ranging from community members to out-of-towners looking for recommendations, these people are already looking for options to consider. By optimizing for local search, your webpage will be getting organic traffic from users who are most likely to walk into your shop or avail of your services.
Nurture trust and credibility
Consumers want to know if a business is worth spending their money on. In fact, 97% of consumers check out a company's online presence before deciding to visit their physical location. So, you need to stand out above your competitors and earn the customer's trust.
There are many ways you can earn the trust of potential customers. Local content and link building help establish your business' place in the community and build on its reputation as a local expert in your industry.
Provide complete information to your target audience
The digital age has empowered consumers to make informed decisions. With one-third of people searching on their smartphones before visiting a store, your business has the opportunity to provide potential customers with everything they need to know about you.
Optimizing your business' Google My Business profile, actively creating local citations, and even localized reviews are vital to convincing your prospective customers to do business with you.
Boost search results ranking
At the heart of Google and other search engines' algorithms is the desire to bring high-quality, relevant search results to users. When you implement Local SEO best practices, you are signaling to the algorithm that your business is a trusted and reliable one. As a result, the algorithm can rank you higher on the local SERPs. The more citations, reviews, and content you have optimized for local SEO, the more competitive your business can be.
How to Optimize Your Website for Local Searches
Knowing how to do local SEO helps your business get closer to local customers. Below are the essential parts of how to optimize your website for local SEO.
Keyword Research
One of the biggest local SEO tips is to conduct keyword research. Your local SEO should aim for industry keywords and topics relevant to your business, as well as locale-specific keywords. "Service in location" is one of the keyword formats your business should focus on. Service in location keywords are a combination of all the services a company offers and the locations they serve.

You can look for possible keywords to target by checking out' service in location', Google autocomplete, expanding your area range (like from neighborhood to city), and looking at what your competitors are doing. The goal is to identify your core terms, keyword modifiers, and location. Utilize keyword research tools like Ahrefs or SEMRush to help you validate and confirm if your chosen keywords are right for your business.
Google My Business
Google My Business (GMB) is essentially your business profile on Google. As mentioned in the earlier portion of this article, GMB is what allows Google to add rich information to your company listing as it comes up in the local map pack. The local map pack will also contain details like descriptors and reviews, which are user-contributed.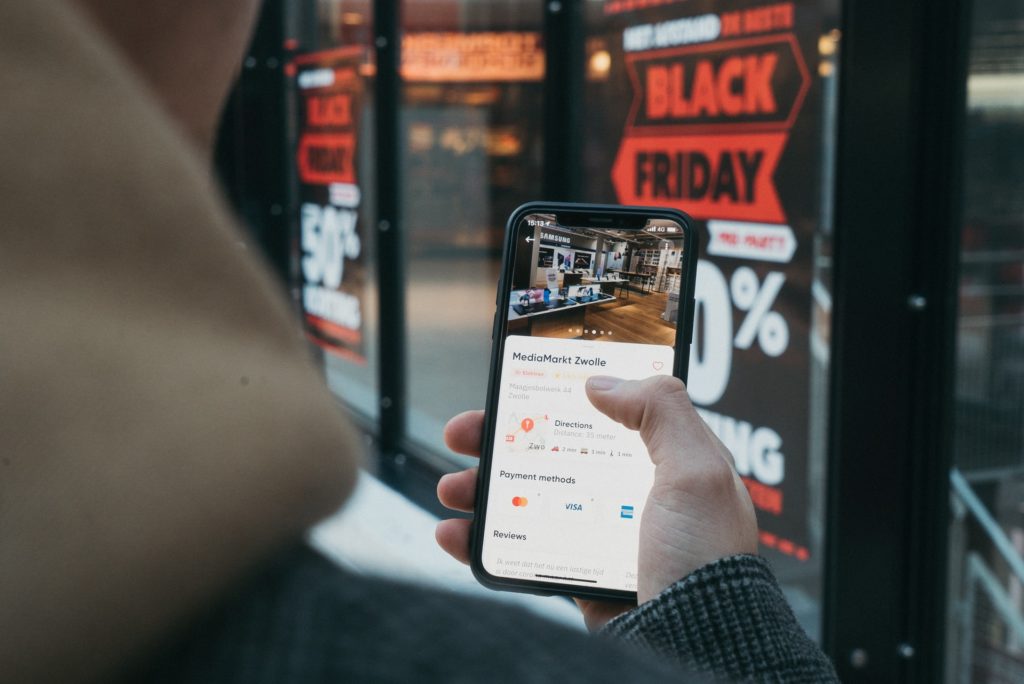 It's critical to keep your GMB profile updated regularly as it boosts your chances of appearing in the local pack results. Use Google Posts within your account and encouraging customers to share their online reviews to further improve your Google My Business optimization. You can also respond to reviews in a brand-aligned tone and manner while using specific keywords like your product/service, location, and full company name.
Citations
Online business citations are every online mention of your company's name, physical address (including zip code), and phone number. Adding these details to online business directories or updating your social media pages can significantly increase your online visibility.
When adding your business information to various listing platforms, ensure that they strictly follow the same format, contain the same information, and are filed under the most relevant categories. Google prioritizes accurate and updated information, so spelling errors, abbreviations, lack of numbers, incorrect phone numbers, and other discrepancies can affect your appearance in search results.
Make sure to remove any duplicate listings on directories and similar platforms. Keep these citations updated regularly to maximize the chances of boosting your page rankings.
Online Reviews
Localized online reviews are an excellent way to boost your visibility, build trust with potential customers, and even demonstrate your brand identity. In the current market climate, reviews can make or break your leads' decision to do business with your brand.
Develop a strong online review profile by utilizing Google Reviews and other review platforms and encourage your customers to leave reviews using your brand name and other keywords. You can encourage customers after in-person transactions or through a personalized email. You can also improve your existing reviews' localization by responding with an honest but professional responses that incorporates your keywords.
Continue to monitor your reviews−both good and bad, to find opportunities to showcase your brand identity further and provide adequate fixes for negative reviews. This keeps your reviews fresh, localized and shows would-be customers how reliable your business is.
On-site SEO
On-page optimization works for not only traditional SEO but also local SEO. The best way to tackle on-site optimization is through content and website design.
Adding relevant localized content such as articles on local community events, guides to your business and services, store and service updates, and other promotions can help move your site towards local rankings. Both timely and evergreen content also convince your potential customers to trust you and choose your business over others. If your business has multiple branches, you can also add location pages to your website. This page should contain details like name, address, phone number, store hours, and other relevant information for each branch you have.
You should also be optimizing your URL, title tags, headers, and meta descriptions for local searches. Best practices include checking how fast your site loads and if important information is highly readable and easily accessed. New site visitors (as well as Google) will prioritize fast and easy-to-use websites over everything else.
As for website design, keep in mind that a mobile-friendly design plays an important role. After all, 30% of Google mobile searches are related to location.
Local Link Building
Link building tactics are a sound practice for traditional SEO as it is. Local link building tactics take this one step further by concentrating on your chosen area. You'll need backlinks from local websites, community groups, neighborhood watch websites, and other area-related online pages to achieve this.
You can also encourage local organizations to give you a backlink by being more involved in your local community. Hosting or attending local events, sponsoring local sports teams or youth organizations, providing scholarships or other forms of charity, and tapping into local creators are just some of the ways you can earn these links.
Let Your Community Find You with Local SEO
In an ocean of global webpages and content, it can be challenging for small businesses to compete with big-fish brands. Fortunately, local SEO lets you focus on your specific area−your own pond, effectively reaching an audience that is more likely to come in and do business with you.
Think you're in over your head with local SEO? Spiralytics can handle everything just the way you want it and lets you hone in on what matters most−growing your brand. Contact Spiralytics today for a free website SEO audit!