Did you know that 30% of new businesses fail in their first two years, 50% in the first five and 66% during the first ten years?
Why do a huge number of businesses fail?
This can be due to a diverse number of reasons:
not investigating the market,
too little financing,
business plan problems,
bad location
poor online presence,
and bad marketing.
The factor we'll be concentrating on in this article is poor content marketing.
A lot of business owners and marketers fail because they go about marketing the wrong way. They do not regularly optimize their marketing campaigns to improve conversions, generate leads and drive sales.
Lead generation is very important for the growth of any business, and one of the most efficient ways to grow leads is by content marketing.
Efficient marketers know that the best way to attract leads is by creating valuable content. In fact, a report from DemandMetric showed that content marketing generates 3 times as many leads as other traditional forms of marketing.
The question now is how do you create great content that can generate leads for your business?
In this guide, we would look at 6 effective ways you can generate leads with content marketing.
Develop a Buyer (Customer) Persona
Do you know it is possible to generate a ton of leads and not make a single sale?
The fundamental principle of creating content that works is that it must suit your ideal audience. If you create content that isn't for your ideal audience, you might not generate any leads or end up getting unqualified leads that won't convert into a sale, which is even worse than not generating any leads at all because you would be wasting valuable resources trying to convert low-potential leads.
Before you start with content marketing, you first have to locate your target audience and create a buyer persona for them.
What is a Buyer Persona?
A buyer persona is a research-based profile that represents the type of individual that would use a particular brand or product. A buyer persona would give insight on who a prospective buyer is – the criteria, specific attitudes, and touchpoints that cause a customer to choose your product or that of your competition.
When you have insight on who your prospective customer is and the questions they need answered, you will be able to create informed, value-filled content that answers these questions and addresses their pain points. The first step in converting a visitor into a lead is by creating content that delivers enormous value.
You can only deliver this value if you know what the customer needs.
These are some of the details that should be included in your buyer persona:
Biographical info – This would include name, age, gender, income, location, profession, family, etc
Values or ambitions – What are the goals, hopes, and ambitions the customer wants to achieve?
Pain points – What are the problems that they need solutions to? What are they struggling with and what questions do they need answered?
Role in the buyer journey – Does the customer have the final say when it comes to making the purchase, or do they need to consult a boss or spouse first?
Objections to your product – Do they have any objections towards your product or service, and what is the reason for the objection?
Answering these questions will help you determine who your target audience is and help you create content that suits their needs and improves conversions.
If you don't know how to create your buyer persona, there are some helpful tools that can help you get started.
Facebook Audience Insights
The Facebook Audience Insights tool is located inside the Facebook Ad manager. This tool contains a lot of information on your audience that you can use in creating a persona. You can also manually add interests that you want to research on and you would get more information on the customer.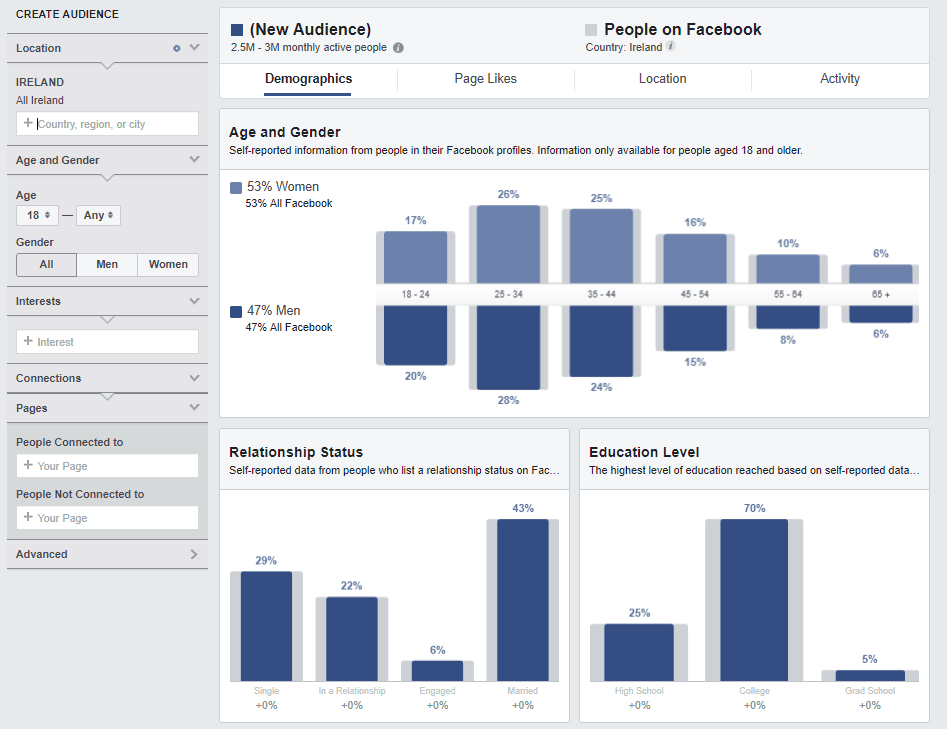 Quantcast
Quantcast is a very handy tool that helps you understand your target audience better. They specialize in using artificial intelligence to help accurately track and measure your audience.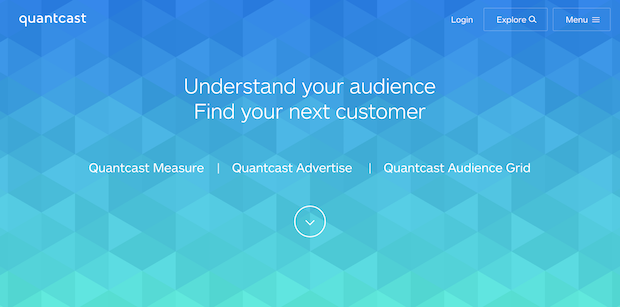 Survey Gizmo
This tool is great in performing surveys on your audience so that you can create a buyer persona on your own. If you already have an email list, you can use Survey Gizmo to analyze data on your existing subscribers.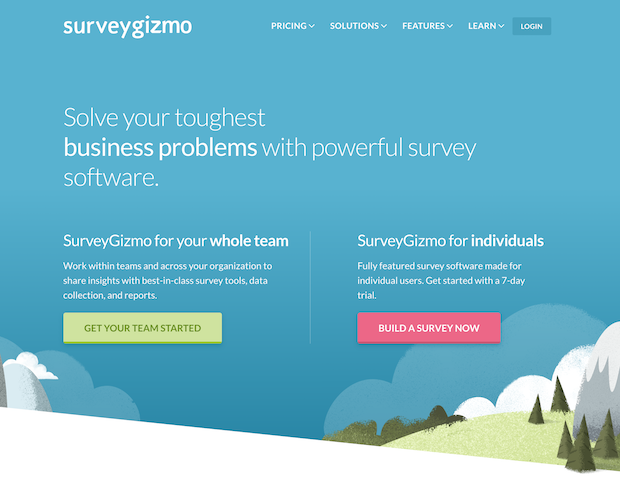 Choose the Content Type that Suits Your Audience
They are hundreds of content types available, and for your content marketing efforts to have a profitable ROI, you will need to create content that suits your audience.
There are two main reasons why you would carry out a content marketing campaign. You would create content either to generate traffic or leads. You need traffic to generate leads, so the two work hand in hand. You need to bring traffic to your site before you can generate any leads.
These are examples of some content that you can use in generating traffic:
Blog Posts
Blog posts are an invaluable resource you can use in generating traffic to your website. They add value for your readers and increase the amount of indexable pages in your domain. They are also great at directing people to your landing or sales page.
Video Content
Videos are another great way to drive traffic to your site. Create videos that are interesting and audience-focused to increase the number of shares it receives. Also, make full use of YouTube. YouTube is the second largest search engine. Creating videos that are optimized for the platform can generate significant traffic to your site.
Social Media Posts
There are currently 2.95 billion social media users in the world. You should take advantage of this and share posts on social media to drive traffic to your site. This means optimizing your social profiles, engaging with other users, and utilizing the power of targeted social media ads.
Podcasts
Podcast is one of the newest forms of content creation that is growing at a fast rate. A recent 2019 report on podcast statistics shows that there are over 700,000 podcasts with 29 million episodes already uploaded. You can use podcasts to interact with your audience on a more intimate level and grow traffic to your site.
Infographics
According to Demand Gen Report, infographics can increase your web traffic by 12% and they also receive 650% more engagement than normal guest posts. We're very much in the age of visual content, so you should be ramping up your visual marketing game to take advantage of these engagement trends.
After you have started seeing traffic from your content efforts, the next step is to create content that you would use in lead generation.
What is Lead Generation Content?
These are also called lead magnets. Lead magnets or gated content are valuable resources that you offer a prospect in exchange for information (most likely an email address).
The truth is that people are really guarded when it comes to their email addresses. The only way you can get a prospect to offer their email is by offering something valuable in exchange.
Here are examples of content types you can use in generating leads:
Case Studies
eBooks
Free reports
Webinars
Mini-courses
Quizzes
Free trials or demo of a product.
Use Content Syndication
Creating amazing content is a great way to generate leads, but what happens when you are a new blog that has not started generating any traffic?
One great to get people to see your content is by leveraging content syndication.
What is Content Syndication?
Content syndication is the process of uploading your content to third-party sites that are bigger than you to generate more traffic and increase engagements. When you syndicate your content on a site that has a ton of traffic from your ideal audience, you immediately have the potential to generate a ton of leads.
You can use services like Netline for content syndication. The platform syndicates your content in their B2B lead generation network to help you build traffic and generate leads faster. The best part of this platform is that it's performance-based so you only pay for the leads that are generated.
To avoid having duplicate content issues or getting a penalty with the Google algorithm, make sure you use canonical tags to tell search engines which is the main content that should be given SEO equity.
These are some of the most popular performs that are best for content syndication: Medium, Slideshare, Quora, Outbrain, Taboola, Scoop.it, Facebook Business, LinkedIn, Reddit, Tumblr, etc.
Choose Your Distribution Networks
Creating content is one thing, getting people to see it is another. It is important that you decide on the marketing channel mix to use in distributing your content.
There are two main channels to distribute content – organic or paid channels.
Organic distribution channels do not require money to get started. If you are on a budget, organic channels probably the best way to go. The only thing with organic channels is that it takes time to build online authority and credibility. They grow over time and might take a few months before you start seeing significant improvements.
Some of the most popular organic distribution channels include:
Search engines
YouTube
Facebook
Twitter
Instagram
Pinterest
Tumble
LinkedIn
Quora
Note: You do not need to use all of these channels when distributing your content at once. Earlier we discussed buyer personas, and if you have done adequate research on your ideal customers, you would know which channels they spend most of their time on. Concentrate your efforts in these places to maximize your distribution budget.
Paid distribution channels require money to get started with but they generate results immediately. If your PPC campaigns are optimized properly, all you need to do is purchase some ads and you will start seeing traffic immediately.
Some of the most popular paid distribution channels include:
Social media ads
Search ads
Display ads
Native Ads (Ads that appear in other platforms)
Content discovery networks
Making use of both organic and paid distribution can help make lead generation more holistic for your site in the long run.
Create Compelling Lead Magnets
Your lead magnet is very important in lead generation. If you have an ineffective lead magnet, it would be difficult to generate leads, even when you have a lot of traffic.
Here are some interesting lead generation ideas:
Checklists: These types of lead magnets convert well because they are very easy to consume and usually contain vital information.
Cheatsheets: People love cheatsheets because they offer step by step guidelines to get optimal results with less stress.
Templates: These work great as lead magnets because users are already actively looking for them. Find out what templates people look for in your industry and offer them for free.
Examples: No matter your industry, people are looking for different ways to solve their problems. Offering actionable examples in exchange for an email is a win-win solution for both parties.
Resource lists: Resource lists save the user a lot of time as opposed to doing the research themselves.
Recipes: If you are a food blogger, creating a curated recipe lists can be great as a list magnet.
Tutorials, eBooks, and Guides: Probably the most widely-used options, these lead magnets are essential to help users learn about your product and the problems it solves.
An effective lead magnet should have some of the following characteristics:
Solve user problems: If your lead magnet does not solve a specific need of your user, it cannot generate leads for you. You need to offer value to generate leads.
It should be specific: Don't make the mistake of creating a generalized lead magnet. Your lead magnet should be specific to your user so that you can have a high conversion rate.
Should be easily accessible: The lead magnet should be delivered right away. If the user has to go through a long process before they get the offer, they might not convert.
Easy to digest: This is the reason why checklists convert very well. Most prospects do not want lengthy books or reports that might overwhelm them. The easier it is to consume, the more it will keep your audience engaged.
Optimize Your Landing Page
If your website sees a ton of traffic but your landing page is not optimized to generate leads, you will be wasting a ton of opportunity. There are certain strategies you can implement to improve the conversion rate of your landing page.
Let's look at some of them.
Remove the Navigation Page
A navigation page at the top of your landing pages can be a distraction and prevent visitors from converting. The only two options that should be at the top of your landing page is either to opt-in or close the page.
A case study on Yuppiechef showed that removing the navigation bar from their landing page increased conversions by 100%.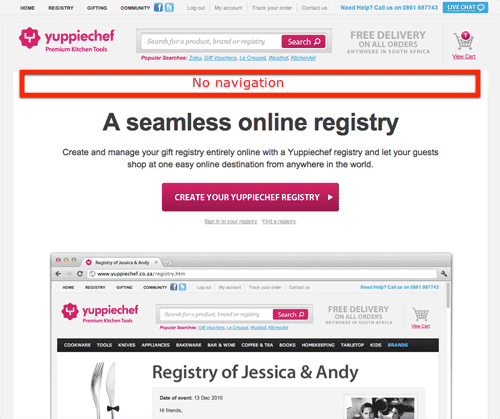 Have a Clear CTA Button
Your CTA button is also very important. It should be clear and visible. Your CTA button should grab the attention of the visitor. The 3 best colors for CTA button are red, green, orange/yellow and the worst colors are black, white, and brown.
This CTA button from Kissmetrics is an example of a great CTA button because it's clear, concise, and drives users to perform specific action.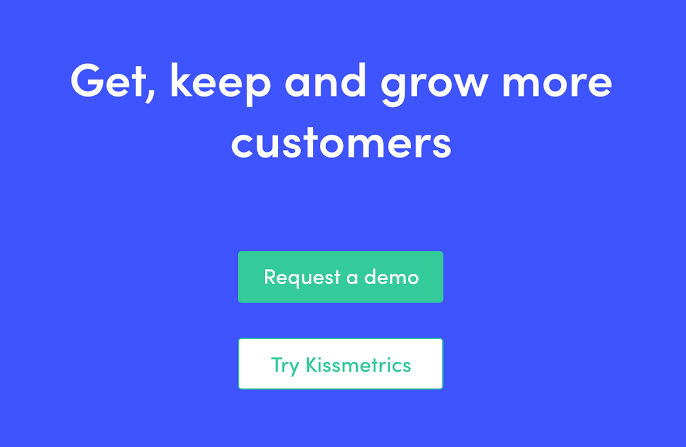 Conclusion
When creating your business plan and marketing strategy, you need to follow the right steps to ensure maximum return on investments. Following the strategies in this article will help you generate more leads, increase conversions, and drive more sales for your product or service.