Video marketing this year is more beneficial to your business than any other time in recent history. Incorporating video into your marketing strategy can provide all kinds of positive results, from attracting more leads to delighting current clients into becoming repeat business, and everything in between.
In particular, video can help improve your lead gen at every stage of your client's buyer's journey. Whether it is increasing brand-name association during the awareness stage, engaging leads during the consideration stage, or nurturing a "yes" during the decision stage, video can and should be used to improve your current lead gen efforts.
Here are the top six tactics you should incorporate into your current lead funnels to increase your lead generation at every turn:
Use Videos to Attract More Leads Online
Launching a national TV ad campaign isn't the only way to raise brand awareness with video. Using video in your online advertising efforts is a great way to reach new audiences and raise brand awareness for your company, even on a small to midsize budget.
Creating a brand video or explainer video to introduce you and your services, then promoting it with video ads on social media platforms where your prospective leads congregate online, is a great way to raise awareness and start attracting new prospects. Video ads are better for engagement and brand recall metrics than your typical image ads, as videos stick out more in a crowded newsfeed, and are more likely to capture a viewer's attention thanks to autoplay features on most social platforms.
Keep in mind, the platform you run your video ads on does matter, especially if you are on a limited budget. For example, if you are looking to attract SMB owners, running video ads on LinkedIn or Facebook would be an ideal place to attract and generate more potential leads. If your services are more consumer facing, then launching video ads on Youtube or Instagram might be a more worthwhile effort.
Add a Video to your Sales Landing Page
After you have attracted new viewers with your video ads, using video on a landing page or company website is a great way to continue to engage them once they have clicked through to learn more. Using video, you can even create more follow through from viewers by directing them to a specific landing page that you link to from a video. You can also have users click through from an ad to a landing page with a video on it.
Videos on landing pages, or videos that direct viewers to landing pages, have a powerful rate of return. Up to 86%, depending on how you set up your call to action and when or where you direct viewers to take action. There are a few ways to do it:
First, you can hook them with a 15 second intro to an educational or tutorial video that they then have to click-through to see more of. Once they click through to a landing page you create specifically for this effort, you can hide the rest of the video behind a "gate" where they have to provide their email and contact information before getting the valuable information from watching the rest of the video.
Another option would be to launch a video ad that directs viewers to another landing page with a strong call to action where they can decide to sign up for more information or purchase your service right away from the landing page. In this instance, you would want the video you are promoting to be an explainer or product video that introduces a problem your leads have and introduces your service as the solution in the same video. That way, they have enough information to either sign up to buy later or make a purchasing decision right then and there.
Use Personalized Videos in Your Follow-Up Emails
Once you have a lead's contact information and add them to your sales or marketing funnel, you will want to incorporate videos in your lead nurturing efforts.
For marketing funnels, including video in newsletters and marketing communications is crucial for lead nurturing. Even creating emails that simply incorporate the word "video" in their subject line results in over 6% higher open-rates. Including a screenshot of the video in the email that is clickable through to a landing page will similarly increase click-throughs, and is a great way to incorporate both tactics #2 and #3.
For sales funnels, you and your sales team will get the most value out of personalized video follow-ups. These are videos an individual sales team member creates, either by webcam or smartphone camera, that are personalized to the lead they are communicating with.  By creating a video that is hyper-targeted to an individual lead, the lead will feel more engaged with and therefore more likely to respond to your follow up. Since you put all the effort of recording a video to talk them through the process, they will feel it worth their time to communicate back to you more regularly.
Use Video Retargeting Ads on Social Media to Stay Top of Mind
Once a lead has included their contact information from a video landing page, and are getting emails from you with personalized videos, then the next touch point would be to use retargeting video ads on social media to keep your brand top of mind.
The best video types to use for video retargeting ads are ones that provide value to your viewers, like tutorials, tips and tricks or lifestyle videos. These video types aren't directly related to any personalized efforts to nurture them and can be perceived as generic video ads for your business, even though they will know they are seeing the ads because they engaged with your company website and opened your marketing emails.
Instead, this is just another touch point to subtly remind your leads about you with a glimpse of a video as they are scrolling, reinforcing your nurturing tactics without making them feel overwhelmed by more aggressive sales tactics, like spamming them with too many marketing emails.
Use Video Testimonials and Video Case Studies to Close the Deal
Finally, in order to really nurture your leads and get them to convert during the decision stage of their buyer's journey, you will want to provide them with as much social proof as possible. Social proof is proof that other people use your services, and that you aren't just some scam or rip off artist trying to con them into giving you their business.
The best videos for settling a lead's doubts and fears about saying yes to your services are those that provide external validation, like a video testimonial where another brand or customer shares their experience working with you, or a video case study where they can see the direct results of your services, like this one from Burger King: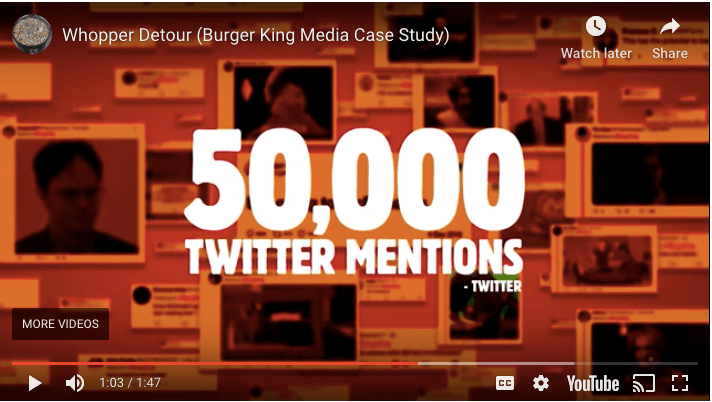 As you can see, by creating a video case study, your results look more impressive, and because they are presented in a video format, facts and figures are more likely to be absorbed and retained over time.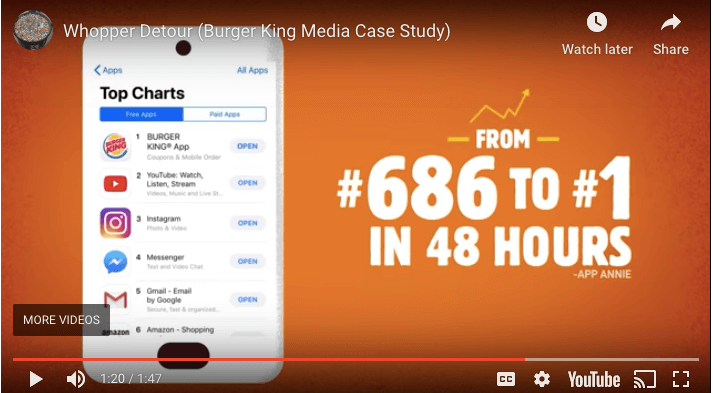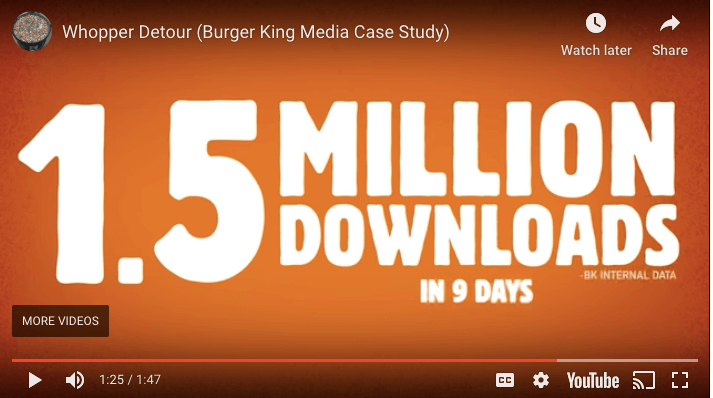 Once you have provided them the external validation they need, answered all their questions, and provided them with value to establish yourself as a trustworthy source worthy of their business, they should finally be ready to say yes and convert from a lead to a sale.
Use Video On-Boarding Series to Turn New Clients into Brand Zealots
Once you have converted your lead and won over a new client, video doesn't stop being useful. Creating a video on-boarding series is helpful for maintaining a client's goodwill, making them feel satisfied with their decision, and that your service is top notch.
You can do this with a welcome series where you introduce them to all the resources they can use now that they have chosen you as a partner or service provider, including other pages with videos like tips and tricks videos, FAQ videos, or tutorial videos to help them learn how to get the most out of your services.
You can also do this with personalized customer support videos, either prepared ahead of time based on FAQs and customer satisfaction surveys you have conducted, or to answer questions in real time with in-depth answers to questions so that they feel supported and personally taken care of by your staff.
This might seem slightly more complicated, but the more of these you do, the easier it will be to have the resources on hand and ready to provide them. You can even create a thirty second video telling them you are sending them a link to another video with the answer to their question and achieve similar results.
Improve Your Lead Gen with Video Today!
If you aren't using video in your lead gen funnels and marketing strategy, you're missing a massive opportunity. Implementing even one of these six video marketing tactics can help you increase your lead gen and start improving sales conversions right away.
If you are just starting out, don't get intimidated by trying to create the perfect videos. Work with an affordable video production partner to help out or create lower-stakes videos, like short social snippets meant to live on Instagram Stories or Facebook live to get used to using video marketing in your day to day tactics.
Remember: videos provide viewers with value through educating, informing, and entertaining them, and is the preferred format to learn about new products or services, so don't leave them out of your lead gen funnels!