This post is Stage 6 in our complete guide to search engine optimization.
Click here for the Full SEO Guide.
You've come a long way with your SEO strategy: you're satisfied with your current keywords, analyzed your competitor's tactics, performed an SEO audit, and optimized your web pages. That means your SEO campaign is pretty much set at this point. But you're not done yet!
The last step to polish up your efforts is to track and analyze your data. You need to understand how you're performing to be able to improve. By continuously studying your methods and revisiting the other steps in this series, you'll know how to stay on top of your game and avoid costly SEO mistakes.
However, there's a lot of data you can harvest from your SEO strategy. This is a considerable obstacle for SEO practitioners since it takes a long time to interpret the data, especially if you don't know what you're looking for. For this post, we'll talk about the most important SEO metrics to keep track of and what actions those results can point you to do.
SEO Metrics You Need to Track
Organic search traffic
Your SEO efforts are mainly geared towards gaining organic traffic, so this should be one of your top priorities (and it's probably the most reliable indicator that you're performing well). An increase in your organic traffic usually tells that your website ranking is improving.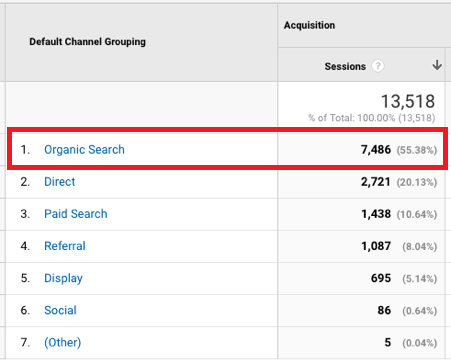 You can use tools like Google Analytics to check your organic traffic. On your Dashboard, go to Overview and select "Add Segment." A drop-down list will show up, and from there you can select "Organic Traffic" and compare it against your all-time traffic.
If your organic traffic is not improving, you should revisit your other SEO efforts and check which one needs more attention. For instance, you may have done outstanding off-page optimization, but you might be lacking with your on-site efforts. These two, as well as the other stages of the SEO journey, are critical to achieving holistic SEO goals.
Keyword ranking
It's time to check if the keywords you selected in the first phase are performing well. Checking your keyword rankings can help indicate if your SEO efforts are paying off. If your keyword rankings improved, then that means your campaign is targeting them well. If there was no improvement, it means that your SEO efforts aren't effectively driving rankings for that keyword.
Using tools like Ahrefs can help you quickly check up on your keyword rankings. Simply go to Site Explorer and type the URL of your website. Select "Organic Keywords" at the right-hand menu. You'll be able to see the position of your keywords on the sixth column.
Here's a sample for hotels.com.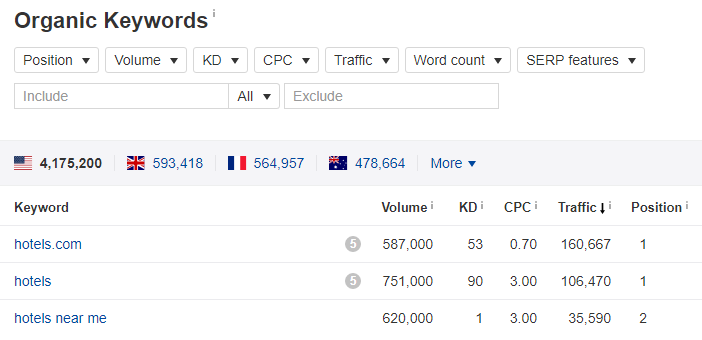 Keep track of the position of your keywords periodically, so you see the trends as they change and act accordingly if/when your rankings drop.
Backlink volume
Throughout the SEO journey, you've probably become highly aware of how backlinks are essential in your SEO journey. The volume of your backlinks shows how many web pages are linking to your site, increasing your ranking and visibility.
On Ahrefs, simply go to the Overview page of your website, and you'll see the total number of backlinks displayed.
Here's a sample for tripadvisor.com.

If you're not satisfied with the number of backlinks you have, then it's time to amp up your linkbuilding strategy. Offer to write guest posts on other blogs, spy on your competitor's backlinks, promote your content, and more. Take note that the quality of your backlinks also matters. Make sure you're getting backlinks from high authority websites as well.
Authority Metrics
You should also be aware of the domain authority (DA) of your website. Also known as domain rating (DR), it's the 100-point scale that indicates how trustworthy and credible your site is. Naturally, the higher the authority of your site, the higher you'll rank organically. SEO Pressor suggests some ways to you can increase your DA, such as:
Writing high-quality, shareable content

Removing broken, low-quality links

Optimizing your site for mobile

Getting backlinks from high DA websites

Improving your website loading speed
Keep in mind that different tools calculate DA/DR differently. For example, your website might not get the same rating on Moz as it would on Ahrefs. So, make sure your using the same DA tool when making comparisons.
Conversion rates from organic traffic
Since organic traffic is a reliable indicator of SEO success, conversion rates coming from this channel are extremely valuable to measure. This would show how useful your website is in acquiring natural sales or leads through your SEO efforts. For instance, if you have 100 organic visitors, and ten people performed an action that you expect them to, then your organic conversion rate is 10%.
There are many ways to measure organic conversion rates: by landing page, location, device, or browser. These factors can tell a story of how optimized your pages are, the effectivity of the keywords you placed on those pages, and what other issues you need to fix to improve your organic conversions.
Engagement metrics
There are three main metrics under engagement, namely: bounce rate, time on site, and pages per session. You can see these numbers on your Google Analytics dashboard.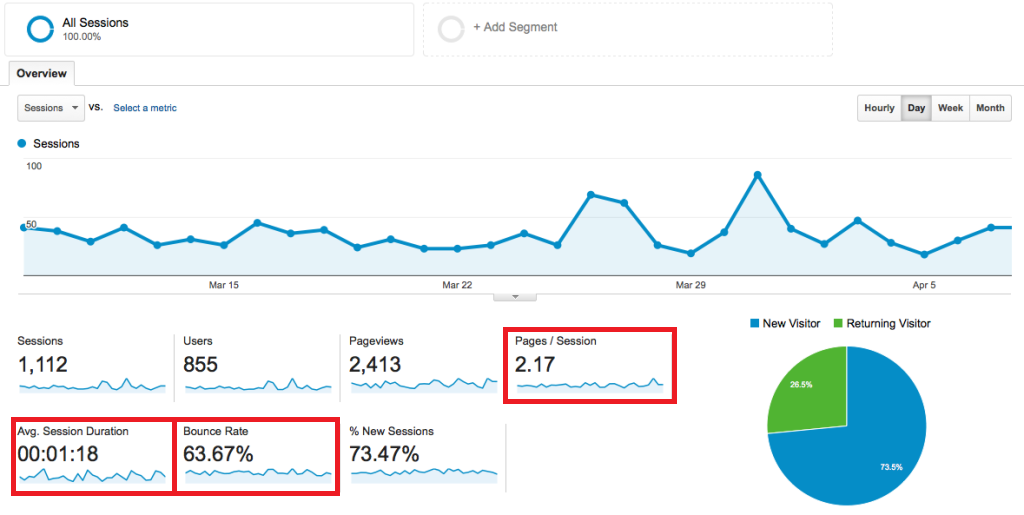 Bounce rate – Number of visitors who exit the site without navigating anywhere else.

Time on site – the number of time visitors spend on the site.

Pages per session – the number of pages your visitors click through in one session.
Research from WordStream suggests that bounce rates and website rankings have an interconnected relationship: lower bounce rates are an indicator for better rankings, and vice versa. That means engagement metrics can help point out any additional areas for improvement on your SEO strategy, like including more CTA buttons on your web pages, linking internally, etc.
Crawl Errors
Although crawl errors aren't a metric in themselves, they still serve as a telling indicator about the efficiency of your SEO efforts. Crawl errors occur when search engines try to reach a page on your website but are unsuccessful. When the crawl is unsuccessful, your pages don't get indexed, so it's always a good idea to keep an eye on potential errors.
Site errors (DNS errors, server errors, robots failure) mean that your entire website can't be crawled. These should always be addressed immediately to limit organic exposure loss. 
URL errors mean that a specific page can't be reached. You can minimize the risk of these errors by using redirects properly and keeping your sitemap up to date. 
Final Thoughts
That's it! You're now ready to take on your SEO campaign.
As SEO continues to become more complex, tracking your wins becomes more complicated as well. Many individual stats don't necessarily affect each other, and this calls for deeper digging and studying as to what the numbers are trying to tell you.
The primary goal of SEO tracking is to make sure that all your efforts are going towards the direction of success. By checking the relevant metrics, you'll be able to adjust and create a better strategy for your site.
After going through all six stages of this SEO guide, you're now able to develop better strategies for your SEO campaign and compete with the biggest and the best to improve your website's rankings.
Looking for reliable and effective SEO services in the Philippines? Look no further than Spiralytics. Our expert team can help you optimize your website and track and analyze your SEO performance for long-term success. Don't miss out on valuable traffic and leads – check out our blog post on SEO tracking and analysis today and get in touch with us to see how we can help boost your online presence!