As of 2020, the world's internet population numbers at 4.54 billion people, representing a 7.0% increase from 2019. On the social media front, the total number of active users has hit 3.80 billion people globally, rising by almost 10%.
Social media and internet use is growing steadily and significantly. And with this, comes an increase in data generated by consumers. In fact, IDC predicts consumers will create a whopping 163 zettabytes worth of digital data by 2025!
With trends coming and going like the wind, it's important to be the first to identify and leverage relevant trends, so you can stay ahead of the market.
Social media networks, blogs, and forums are thus treasure troves of real-time insights that can complement traditional market research channels. Companies are turning more and more to social listening tools, to gain competitive intelligence, identify new market trends, boost the innovation process, and retain their competitive advantage.
Here are five ways you can track trends and drive innovation with social media listening:
Identify new market trends
Detect consumer insights
Drive product development and launch
Keep pace with technology and innovation
Detect new media and influencers to partner with
Making the Most of Social Listening
Identify New Market Trends
By collecting, processing, and visualizing data from social networks in real time, companies easily get an overview of popular topics in their industry. This includes:
Upcoming and current trends with consumers, whether it is consumer trends in Malaysia or something else
Popular topics amongst consumers and key opinion leaders
Key opinion leaders who are prominent or rising among their target audience
Trending conversation topics around competitors
From here, you can better understand shifts in consumer habits and preferences as they develop; even which channels discussions take place the most in your industry. This goes a long way in helping you strategize your next move with greater speed and accuracy, whether in positioning your brand, developing a new product, or simply using the right words.
Detect Consumer Insights
The most successful marketing campaigns are well-targeted, and engage and resonate with your audience.
To reach and convert new customers, it is necessary to understand them first. What are their immediate interests and needs? What do they expect from your brand's products and services? What unmet needs can your brand fulfill?
Social media listening is useful for helping you answer these questions through your marketing campaigns, product offers, and customer experience. A social listening tool allows you to deep dive beyond audience demographics, to analyze consumer reactions and preferences in depth, based on keywords used in brand mentions.
You can then compare these insights with search trends around your brand, to:
Build well-rounded customer personas and buyer journeys
Match consumers to the relevant stage in the purchasing cycle
Deliver the right message at the right time, to move customers to the next purchase stage
Here's a pro tip: Analyze consumer conversations about your brand and product, by applying the 5Ws concept: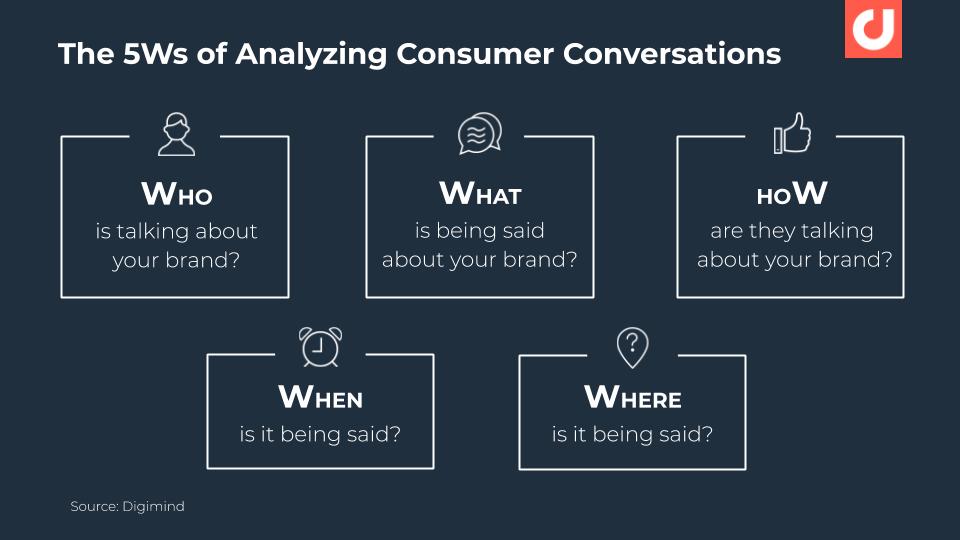 Drive Product Development and Launches
A successful product that exceeds consumer needs and expectations, can go a long way in inspiring customer loyalty and advocacy. Insights from online data can help you with:
Developing new products, or improving current offerings based on customer feedback, market trends from open sourced channels and industry databases
Creating a successful launch strategy that convinces and converts customers, with a thorough understanding of the buyer's journey
ASUS applied product-based classifiers to their social listening tool, to identify consumers' most desired features for a smartphone. These included professional camera functions and a long-lasting battery. With these insights, the consumer tech brand focused on said features for developing and launching their ASUS ZenFone Zoom S.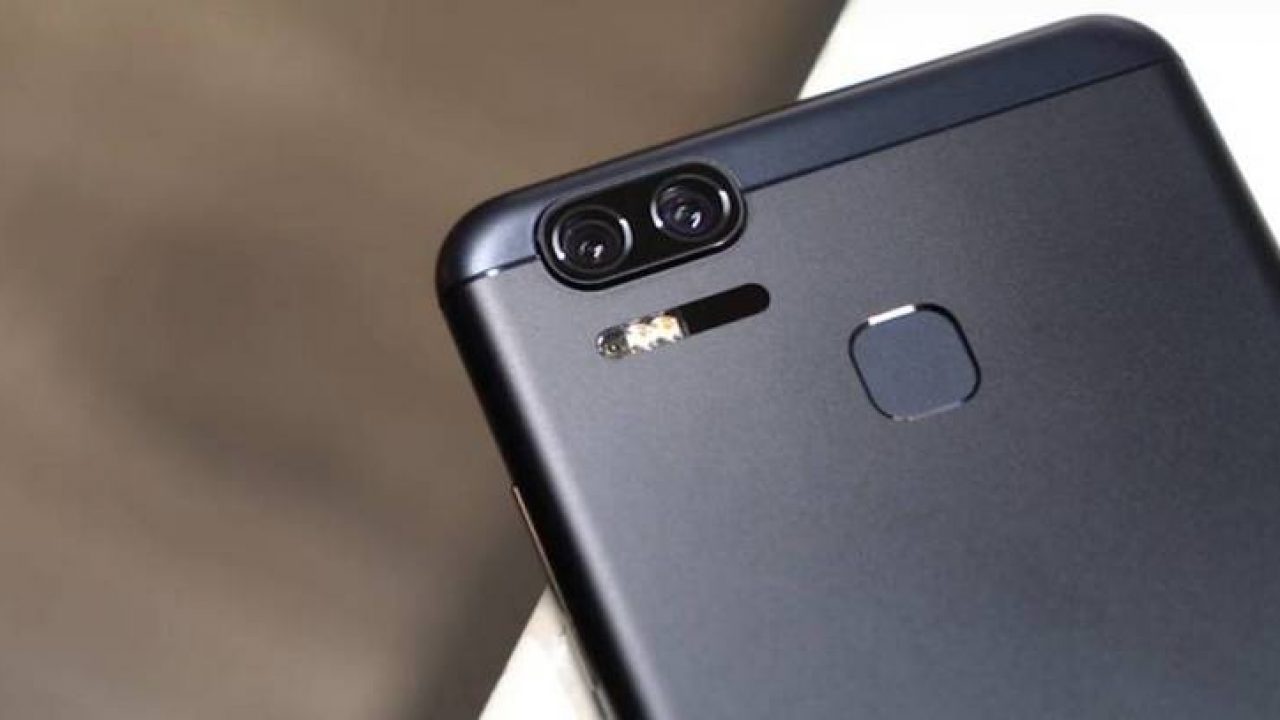 The ASUS ZenFone Zoom S, a product of consumer insights from social media listening. Source: globemobiles.com
Keep Pace with Technology and Innovation
Often, a business innovates by seizing the first-mover advantage. Apart from keeping track of consumers' changing needs and habits, it's also important to keep a close watch on up and coming new entrants and technologies in your industry.
The term "uberization" was coined to refer to the transformation of an industry caused by changing practices or habits, often through digital means. Overcoming digital disruption requires keeping pace with technology and innovation, ideally ahead of your competitors.
It can be time consuming to track multiple developments, on top of supporting innovation management in your company. This is where social listening tools come in handy! Identify technological innovations and new startups that will impact your market most significantly, based on three criteria:
Online share of voice
Changes in brand-related discussions online
Internauts' reaction towards the new technology
Detect New Media and Influencers to Partner With
When it comes to boosting your brand's reach and influence, how do you ensure you select the right media and influencers to partner with, to optimize media spend? By analyzing their relevance and ability to drive real engagement with your target audience.
Social listening tools can help you map your media and influencers network, and visualize the following in real time:
Brand mention distribution and potential audience reach
Who each media or key opinion leader is influencing, and what they are influenced by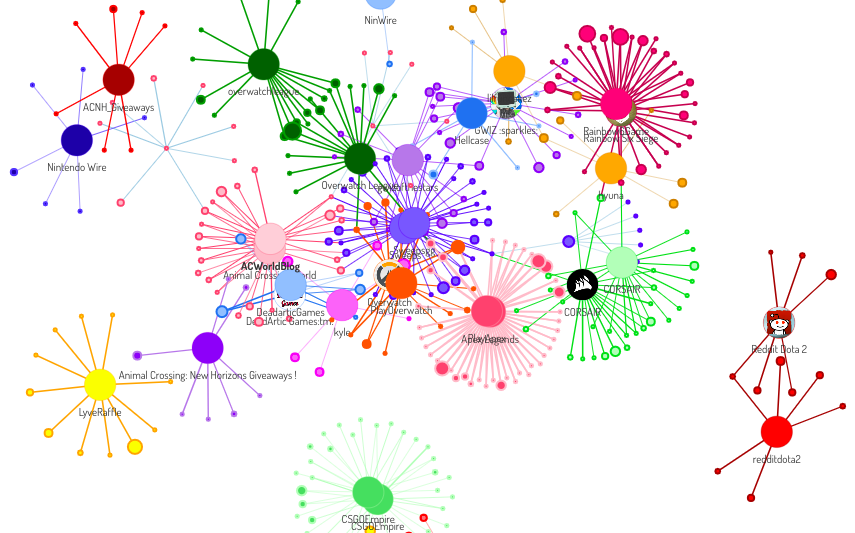 Social listening chart displaying the relationship of gaming influencers in brand conversations.
Final Thoughts
From brand monitoring to innovation management, the possibilities of deploying social listening for tracking trends is limitless.
The next step is to democratize data, so your business can leverage the most impactful opportunities! Here are some simple but effective ways to break down silos and become an insights driven business:
Centralize and display data in a prominent part of your office, where different teams can view your data visualizations and dashboards
Organize monthly meetings between insights analysts and team leads to share insights
Disseminate social listening data through a customized newsletter to relevant teams
{{cta('75ca32f3-2e0b-4403-ab4c-c20ec6884665′)}}