The Coronavirus (COVID-19) outbreak is affecting public safety and day-to-day life. With governments placing stricter measures on travel and face-to-face interactions, it's no surprise that businesses are taking a hit.
Let's face the facts. Global economies will slow down and maintaining cash flows will be difficult. It all seems pretty dire at the moment, but if you want your business to come out of this in good shape, now's the time to start playing the long game.
This post aims to be a repository of all the best information on the web for marketers about Covid-19.
What We Know
Effects on Physical Businesses
Quarantines and social distancing becoming a new daily reality means brick and mortar retailers are receiving little to no business. On the other end, online retailers struggle with meeting demand due to limited logistics. Businesses that depend on in-person transactions or onsite staffing cannot resume operations. These obstacles make it difficult for non-essential businesses to continue running or generating revenue.
Decreased Spending and Increased Cost-Cutting
As a result, marketing and advertising spending are usually the first to go in an attempt to conserve funds and weather through the crisis. Less liquid businesses are putting workers on unpaid leave or beginning rounds of layoffs in order to stay afloat. Estimated losses for the global economy from this crisis reach around $2.7 trillion, which means we're probably looking at major cost-cutting across the board.
IAB reports that 73% of buyers are indicating that the coronavirus will have an impact on the Upfront 2020/2021 spend commitments and expect a 20% decrease in Upfront spend vs their original plan. We can also see that spending cuts on traditional media are far worse than their digital counterparts.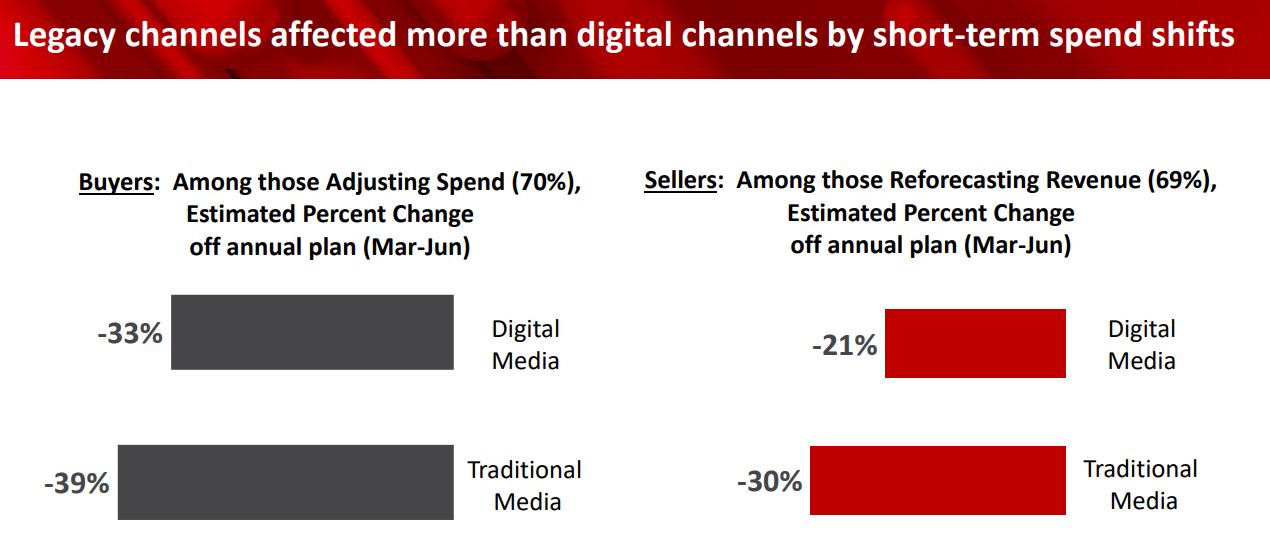 Marketing budgets are usually the first to go, despite the risks involved. A WFA survey suggested that 21% of large advertisers had decreased marketing budgets greatly, while 36% had decreased them somewhat. Just under a third (32%) said there had been "no change" in spend.
Industries Getting Hit More Than Others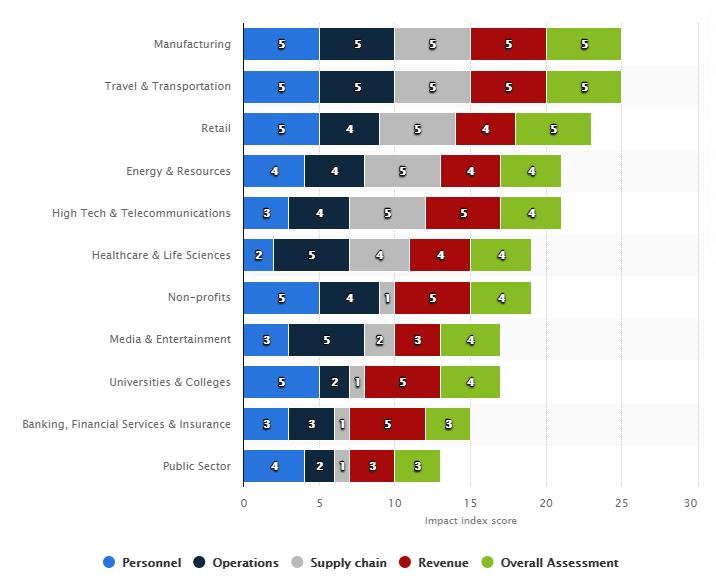 *Statista projected coronavirus (COVID-19) impact index by industry and dimension – minor (1) to severe (5) in 2020*
Few industries will escape the impact of this global crisis, but some industries are definitely suffering more than others:
Retail
Retail brands have been forced to close their physical stores as countries around the world enter states of lockdown. For a large number of retailers that depend on imports, maintaining supply chain networks will also cause difficulties.
Hospitality & Tourism
Major cities have ordered restaurants to only offer takeout options as a preventative measure. Added to that, global travel bans coupled with social distancing mean that maintaining revenue streams and avoiding layoffs will become even harder for the hospitality industry.
Manufacturing
Businesses using manual processes are ceasing operations in light of national restrictions on group gatherings. Decreased demand for cars means that auto sales could decline by as much as 20% year-on-year in 2020.
Construction
As the pandemic continues, companies will likely pull back on expansions, which means bad news for the construction industry. Additionally, supply of parts from China will certainly be disrupted, so smaller construction companies may face large layoffs.
Tech & SaaS
Although the tech industry hasn't been spared from the crisis, it's the most likely to recover quickly. The odds of a tech market decline in 2020 are currently at 50% thanks to restrictions on global imports. For SaaS and cloud-based products, although operations aren't widely affected, spending will decrease significantly this year. However, SaaS products that facilitate remote workers will likely skyrocket.
Shifts in Ad Spend
One of the most major impacts that this virus has had is on ad spend, both online and offline. Digital ad spending has dropped by 38%, while also decreasing on TV (41%), Radio (45%), publications (43%), and billboards (51%) due to spending and sensitivity issues.  Paid search advertising is the most likely channel to be retaining budget or receiving new money, though only 24% of respondents said they were keeping money in search compared with 47% who said they were pulling it from display, for example.
An eMarketer report shows the Coronavirus' impact on ad spending cuts:
And ads aren't the only budgets shifting as per results of a survey conducted by Uplers, a staggering 80% of agencies said that they would either explore, continue or increase their outsourcing.
Increased Online Activity
As major economies go into states of lockdown and people stop leaving their homes, it's only natural that online traffic has spiked, albeit in certain categories more than others.
Akamai, the content-delivery, cloud, and cybersecurity service provider giant, is currently experiencing an increase in traffic of more than 50% compared to the daily average. While Akamai CEO Tom Leighton says this increase is on the lower end of the scale, this highlights that internet usage is only bound to increase the longer people stay at home.
Many e-commerce websites have been fortunate enough to experience growth with the uptick in digital shopping requirements. Here's a breakdown of what people are buying online compared to 2019:
Digital Strategy Shifts
Naturally, the global pandemic has led to many brands re-evaluating their strategies. It's clear from this NewsCred report that the majority of marketing teams are concerned about the need to manage or shift their strategies and priorities.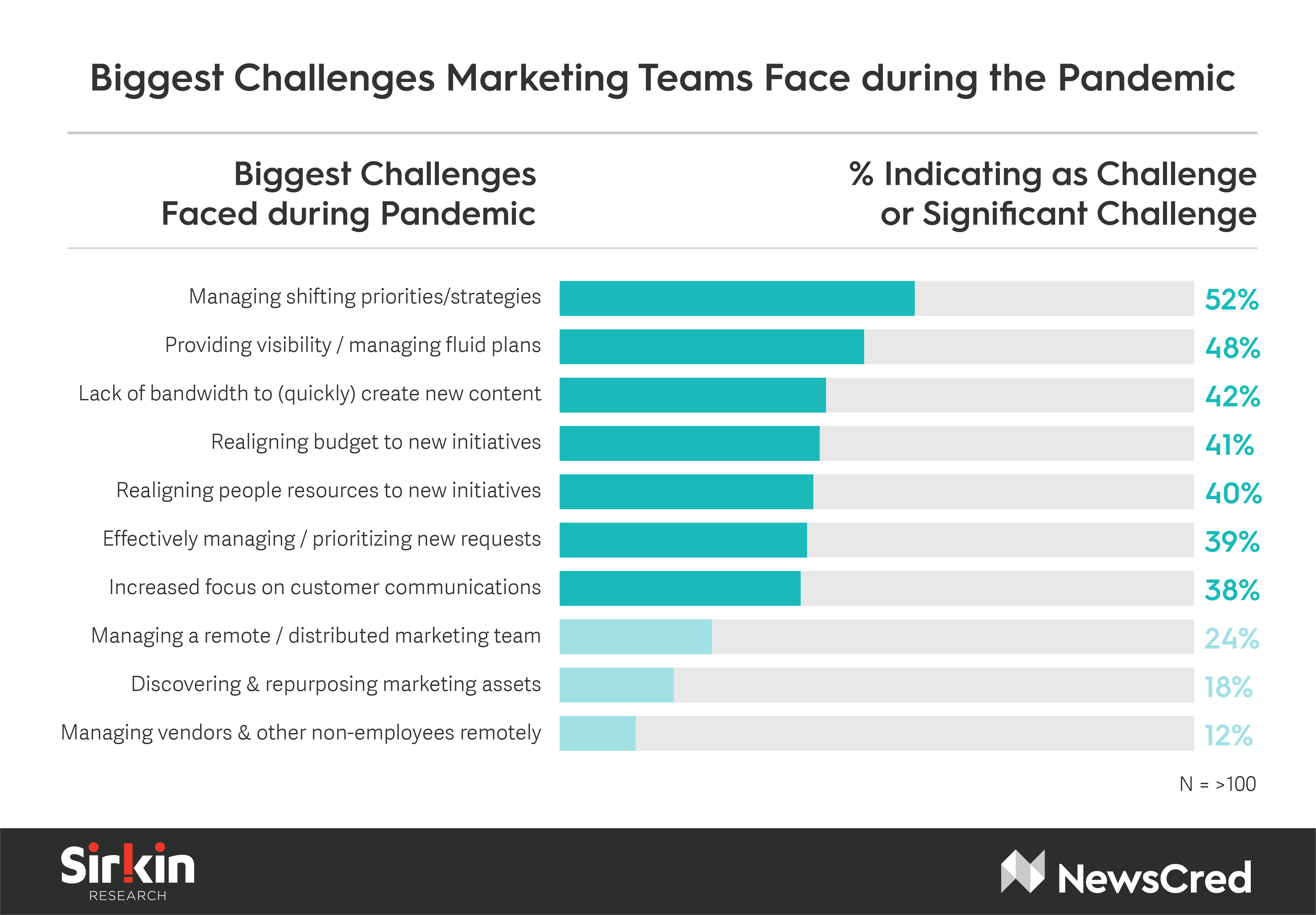 In response to the crisis, more innovative brands have tried to identify and pursue opportunities in the online sphere. Recent research shows that 61% of marketers are reworking their short-term strategies to adapt, while only 9% are making long-term changes. This shows that while the situation calls for some quick changes to improve survivability, long-term goals remain the same when it comes to online presence: increase exposure and engagement. That means focusing on long-term strategies, like content marketing and SEO.
So, where does your brand stand in all of this?
How Should Brands Respond from a Marketing Perspective?
While it's unclear when things will settle down, brands are certainly going to struggle more in order to make up for their losses. In the midst of this crisis, there are still opportunities for you to maximize your digital marketing presence during the lull, allowing your business to hit the ground running when the situation begins to stabilize.
Start thinking about empathy
People are feeling very uncertain right now, so empathy and sensitivity are critical. Do an audit of your marketing's messaging. Is the content still relevant? Could it be considered insensitive? If possible, look for ways to make it more helpful. Online survey solutions provider SurveyMonkey does this really well by focusing on the relevance of their product's goals (listening to people) and how it's especially important in times of crisis.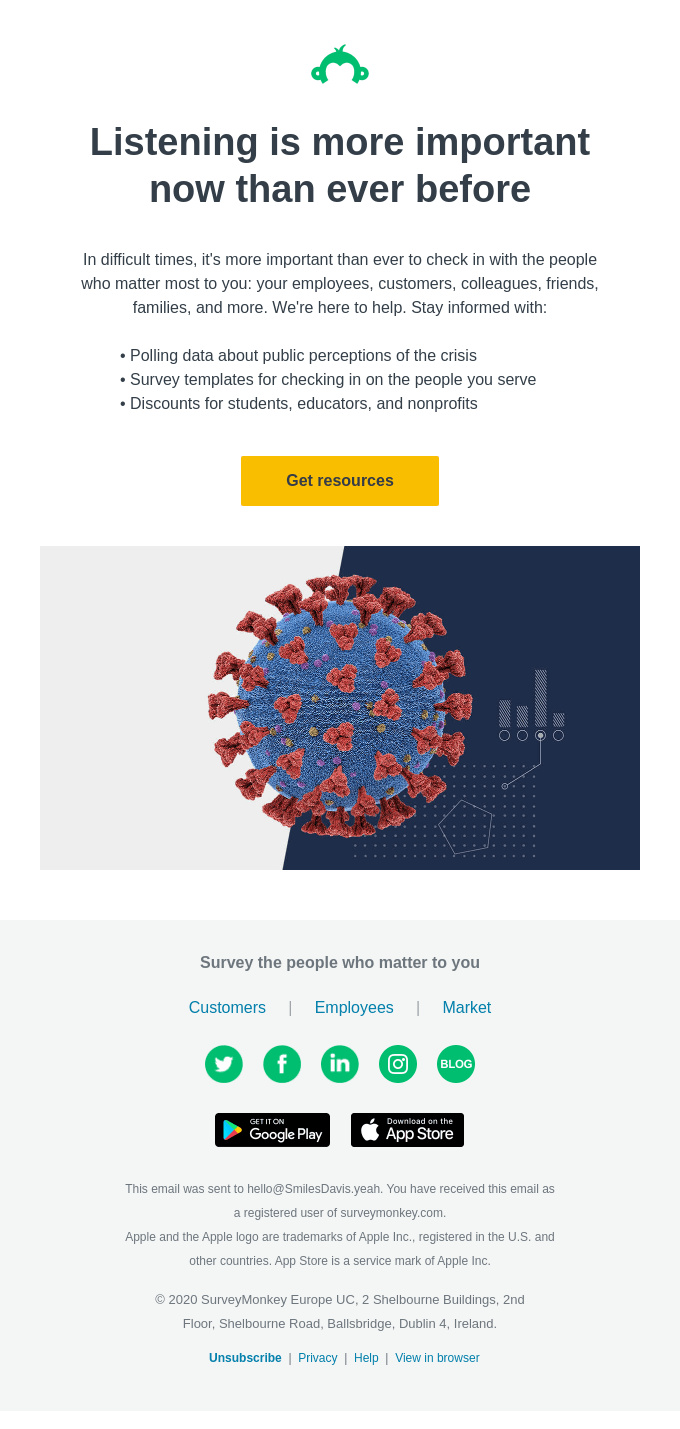 You don't have to stop promoting your brand or its products. Just do so in a way that shows some awareness of the challenges being faced by different people and businesses.
Focus on digital marketing
Online traffic and the increase of internet users is matched by recent rises in online activity—online forum Reddit is reaching double-digit % increases in traffic across the board, with a 20-50% increase in subreddits dedicated to business, finance, news, education, travel, and sports. Twitter, while losing some of its revenue due to advertising pull-outs, is seeing a rise in monthly active users and time spent.
Rand Fishkin of SparkToro believes that there is more attention online now than ever before, with consumers not only looking for content that is relevant to current events, but also any kind of content that comforts or entertains. Brands that invest now, he believes, will have a leg up on the competition both in the short-term and long-term.
Due to the significant reductions in digital ad spend across the board, advertisers have taken a hit. The same number of clicks won't cost you nearly as much in March as it did in January. The severe drop in competition and average cost-per-click means your advertising budget will take you a lot further in Q2. Look out for opportunities to expand your reach with PPC, both search and display as capturing market share now means reaping benefits in the future, especially with the upward trend in clickthrough rates.
Re-evaluate traditional marketing channels
Trade shows and other important marketing events are affected by the current public health crisis. According to figures from data intelligence company PredictHQ, the month of February has seen a 500% surge in cancellations of significant events.
ClickZ's research identifies that B2B companies who participate in industry events allocated almost 40% of their budgets to trade shows and exhibitions, five times more than the 8% used for online marketing. Instead of cutting marketing budgets in light of these lost opportunities, the study suggests that redirecting it to digital marketing efforts can not only avoid face-to-face interaction, but easily see a return on investment (ROI) through effective marketing strategies.
Companies that previously did not fully develop their digital marketing strategies have the opportunity to switch gears and transform the loss into a potential gain through updating the company website, upgrading content marketing and search engine optimization, and improving social media engagement.
Take advantage of growth opportunities
One of the best reasons to keep digital marketing efforts alive throughout the crisis is to take over where your competitors have given up. Neil Patel, in his blog on marketing through the Coronavirus pandemic, notes that there is often less competition during an economic downturn. Businesses can take advantage of this to achieve faster results in terms of growth and market share.
Historically, companies that acted too defensively during a recession suffered more afterwards. Electronics manufacturer Sony worked towards a cost reduction worth $2.6 billion during the 2008 economic crisis—the plans included the closure of several factories, delayed investments, and the reduction of 16,000 jobs. Since then the company has struggled to regain its momentum, with its newer products being bested by competitors such as Amazon, Microsoft, Nintendo, and Samsung.
On the other side, people may be a bit more cautious about spending during the outbreak. However, this crisis will not last forever. Staying visible to your target market during and after the crisis can help your brand stay fresh in the minds of consumers.
Maintain a Healthy Online Presence
Despite the drastic market changes, it is absolutely necessary to maintain a healthy online presence.
It may seem like armageddon right now, but the future holds even more possibilities of overcoming the odds. Take a look at your branding strategy, rework your promotional messaging, or fix technical SEO issues on your website. Play the long game and come out of this stronger than ever.
Here at Spiralytics, we're currently operating 100% remotely to ensure uninterrupted operations while keeping everyone's safety in mind. Fortunately for us, we've had remote working capabilities and a strong internal collaboration infrastructure for years, so it's been a fairly seamless transition.
Stay safe everyone.
Want to learn about how we're helping our clients find opportunities in times of crisis? Contact us today for a Free Growth Marketing Assessment!