We all have our success stories, and here's one of ours.
Over the past two years we have created dozens of blog posts about Content Marketing, SEO, PPC, Google Analytics and other Digital Marketing disciplines, but none of those posts (and none of our pages really) have gained us as much traction as this single post did.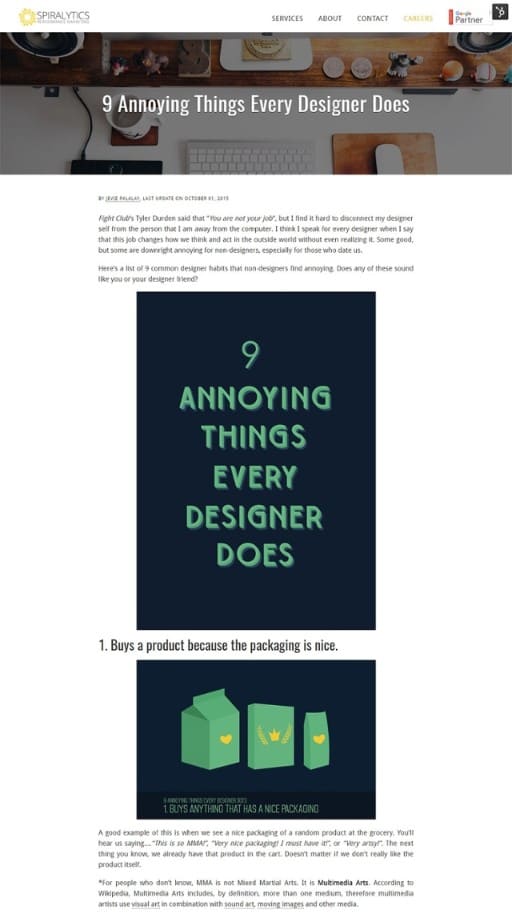 For what it's worth, our blog over here is just a speck in the world of content marketing, and we're just a bunch of low-key UK and Manila-based digital marketers doing our thing. When we started this blog, we wanted everyone in the company (at that time, all seven of us) to be involved in the blog content creation. This blog post we're going to talk about was created by Jevie, Spiralytics' first hired Graphic Designer.
Everything was an experiment, and we gave everyone free rein on choosing topics as long as they fell under his/her specific "department". So Jevie chose this topic, "9 Annoying Things Every Designer Does", and we put it out there along with other experimental posts. Two years later it's still our top performing post of all time without a dime spent for paid advertising.
Every now and then Jevie's post gets resurrected with a surge of traffic just like last week when it brought a fresh round of visitors to our site.
It was first published in April 2014 but we think there's so much to learn about this post that we can still very much apply today. So we're sharing them all here.
1. Blog posts bring in both immediate and long-term results.
Just stating the obvious, if you're still not convinced. The great thing about blogging is, as opposed to social media, your content is always accessible somewhere in your website and therefore has infinite chances of getting seen for months and years to come.
When this said post was first published in April 2014, it got a good amount of traffic immediately but it wasn't until 8 months later that it peaked at 18,824 page views, incidentally, on a month we didn't publish any posts at all.


In 2014 this literally blew our minds. To put it into perspective, on a good day we get just about 400 pageviews. So every now and then we get spikes in our traffic and immediately wonder, "did Jevie's post get viral again?"
We moved to the Hubspot platform at the start of 2016 and while we were intentional in migrating old posts and redirecting old URLs to the new ones, we considered this move a fresh start. This time around, we're focused on creating content about Content Marketing, Business Blogging and SEO. We didn't put a lot of effort anymore into repurposing and promoting old posts that don't align with our new direction.
That said, it's always a nice little surprise when we still see spikes in our traffic coming through this post. This is not to mention the constant amount of pageviews it still gets every week.
The same premise is true for all our other posts. The scale may be smaller but the point is, once you get in the habit of content creation and content promotion, you're guaranteed to gain traffic from your posts both immediately and long-term.
2. Adding a lot of visuals to content is effective only in certain verticals.
Articles with images get 94% more views than those without, and 40% of people respond better to visual information than plain text. It's been a known fact that visuals are effective in attracting viewers and in making blog posts more reader-friendly.
However, a recent study shows that image-heavy content does not apply to all niches. Kelsey Libert claims creating a lot of visual assets is in fact a waste of time in some verticals. Think verticals like Education, Business and Finance, Technology.. most readers of this type of content might find it distracting to have too many images on the page. In comparison, verticals like Entertainment, Health and Fitness, Pets, Travel and Fashion benefit a lot from visual assets.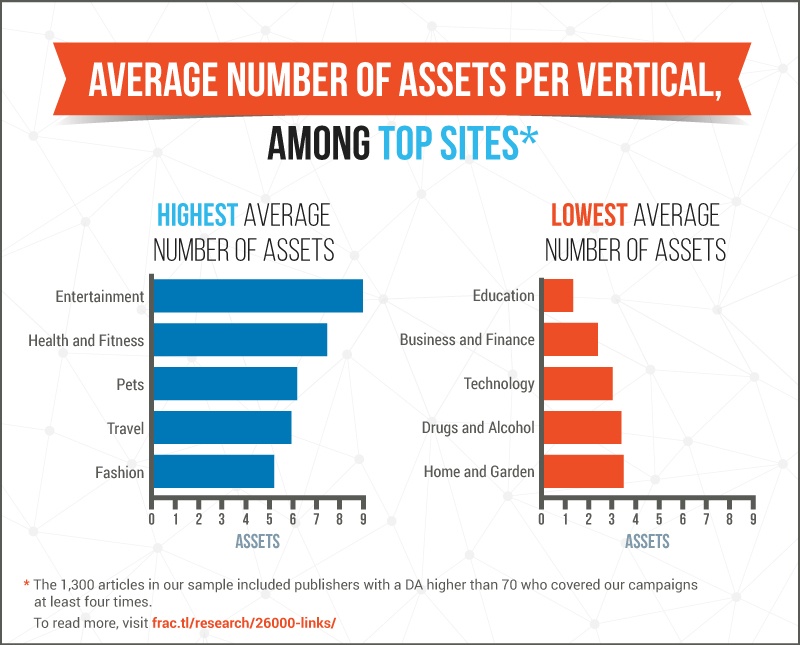 Going back to Jevie's post, it clearly lends itself well to this type of content. The topic is relevant to designers, created by a designer, and what better way to drive her point but through thoughtfully designed visuals.
After the success of this post, we published several image-heavy content, experimenting on the premise that visuals make posts perform better. Alas, none of those "experiments" gained the same amount of traffic. Applying visuals is an effective strategy, but only when it's applicable to your niche, topic, and target audience.
3. Content promotion is as important as content creation.
Jevie created this post in one day, but because she promoted it in the right channels, she set it up to get page views for days and months to come. Creating content is a one-time thing, but promoting content is an ongoing effort. Now, the good thing about evergreen content is that, in cases like this one, it stays relevant for years to come. Therefore, promoting it over and over again is no-brainer. Plus, if your content is really good, other people will eventually promote the content for you.
4. Never underestimate the benefits of getting noticed by a high authority website.
A quick look at this post's traffic sources tells you that most of its traffic came from social media and DesignTaxi.com, a DA 75 online magazine for designers.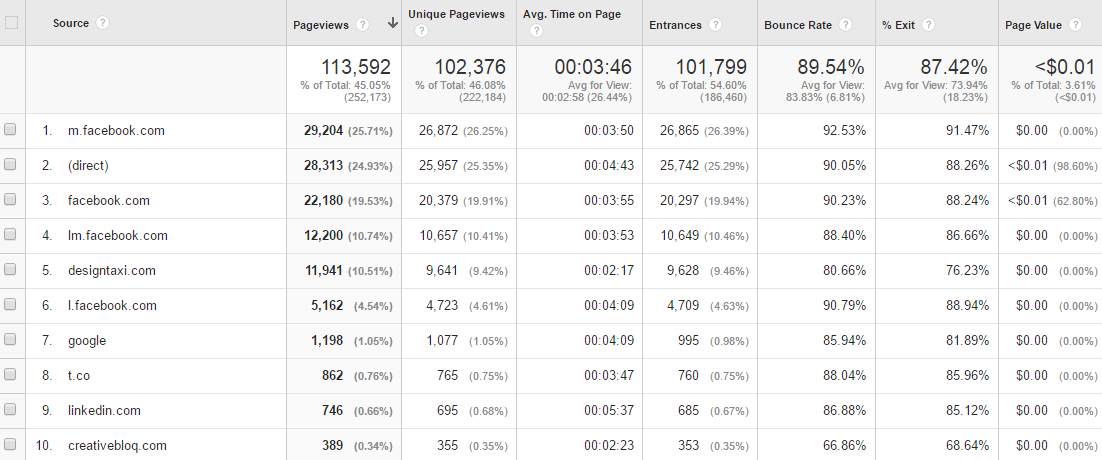 GA data from Sept 2014 to July 2016
Design Taxi picked up our post and linked it up in September 2014, which ended up becoming one of its biggest sources of traffic. People saw the post from Design Taxi and it just kept getting shared over and over in Facebook and social media. Designers and creatives in particular could relate well to its content, most of them finding it "on point" and entertaining. Having Design Taxi (whose audience is composed of mostly designers and creative types) link it up was a huge thing.
Fastforward to September 2016.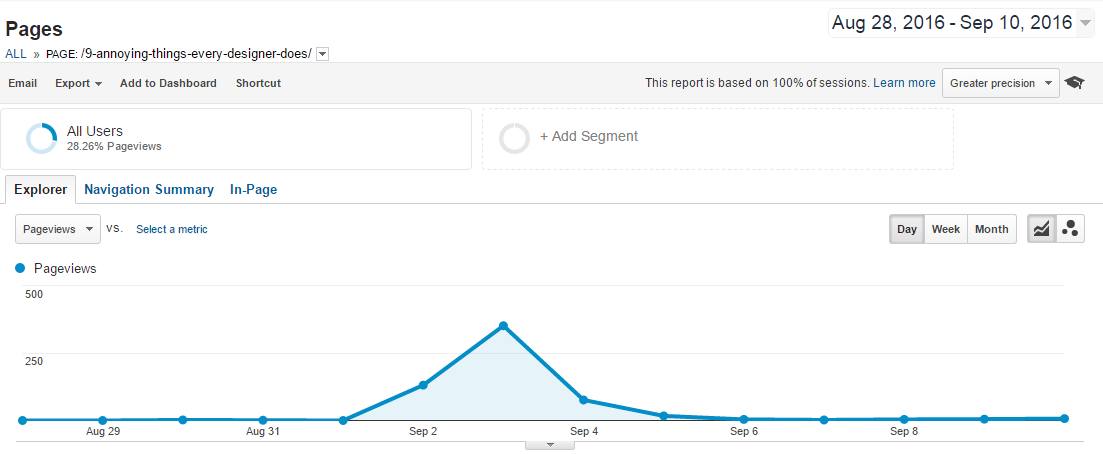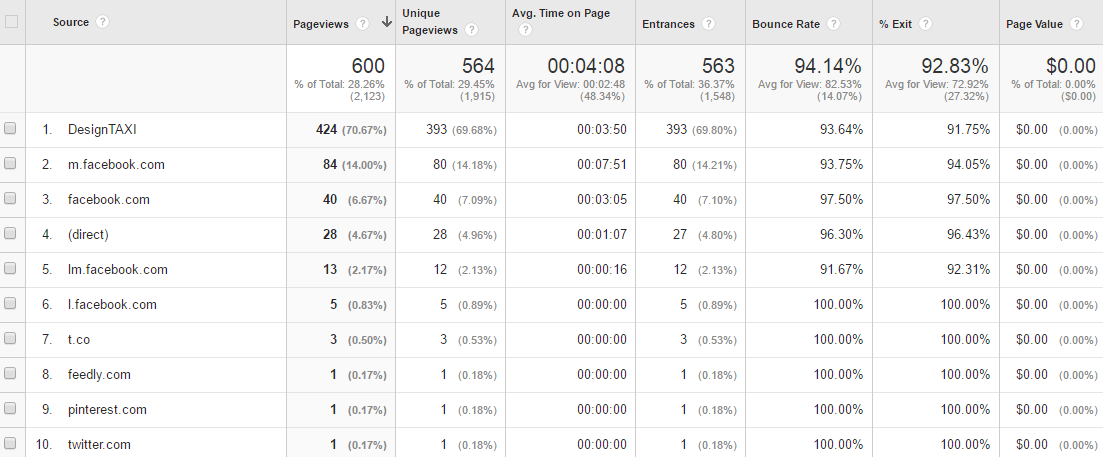 When the post got another spike of traffic last month (2 years after it was published, take note), most of it still came from Design Taxi.
Now, Design Taxi found our post organically, but strategically and intentionally placing yourself right in front of authority websites and industry influencers is a good practice to include in your content marketing process. Actively contributing and guest posting, for example, puts you in front of other networks and communities, which essentially expands your reach.
5. Humor, when done right, is an effective marketing ingredient.
Humor in marketing can be an effective tool if used responsibly, and yep, the key is in using it responsibly. Understanding your target audience plays a huge role in creating content that is entertaining, funny and relatable. Try to avoid making fun of controversial topics. Use sarcasm in moderation. There's nothing wrong with making fun of a certain group of people, as long as you don't come off as insulting them.
There are a lot of factors that played really well in the success of Jevie's post, but we believe it's the entertainment and emotional factor that made it highly relatable and therefore shareable.
6. Always keep your target readers in mind when creating and promoting content.
In connection with the above items, knowing who your target readers (or buyer personas) are allows you to create more strategic content, at the same time, gives you an idea where to promote your content. We talked about how establishing your buyer personas can make or break your Content Marketing strategy here.
Incidentally, when Jevie's post was published, we weren't very specific about our blog's target readers just yet. As I mentioned, the blog was mostly experimental, and we wanted to empower our employees to become content creators first and foremost. Jevie just naturally picked a topic that's relatable to her kind of people.
In a nutshell, it was successful in terms of attracting readers the post was intended for, but it doesn't exactly appeal to Spiralytics' all-important buyer personas.
7. Don't forget to optimize your pages to lead first time visitors through your inbound marketing funnel.
When we first published the post, we weren't really offering Design services just yet. In the same way, the post was attracting mostly designers themselves, people who aren't really interested in availing, well, design services.
Notice that the post's bounce rates and exits were very high, above 80% on average. People read the post, have a good laugh, and then leave. What we failed to do at the time was to at least capture email addresses or get people to subscribe, something you don't want to overlook in your own content marketing campaign when you're starting off.
8. Pageviews is not always a good measure of success. But Links from DA 70+ or 80+ Websites? Oh yeah.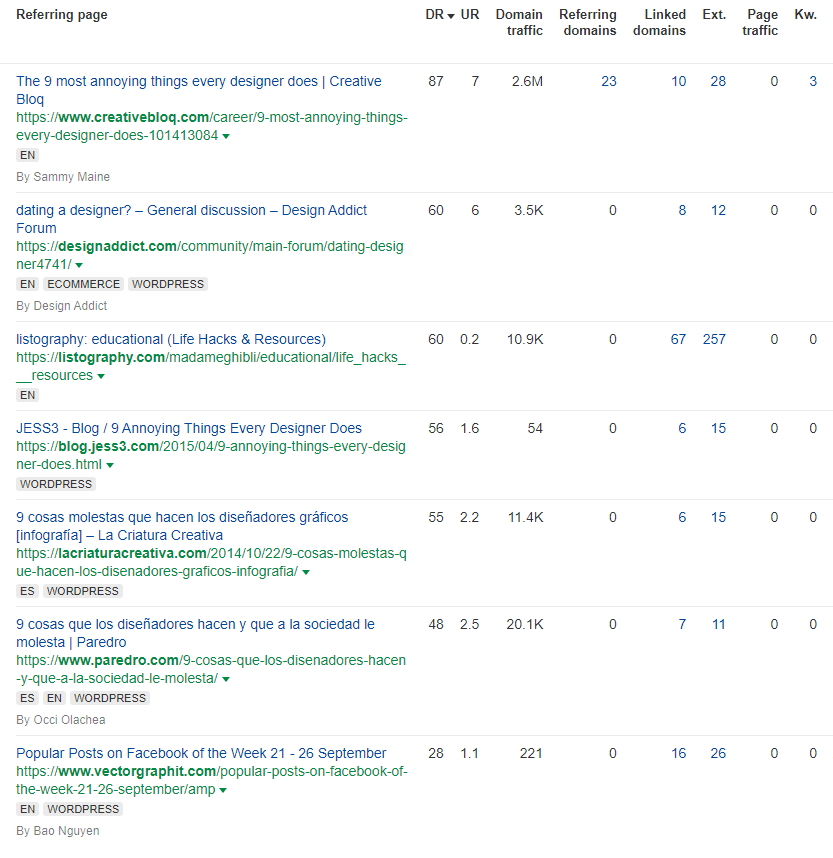 Pageviews can give us a general picture of which pages are getting traction, but it's not exactly a measure of success in terms of your end goals. In other words, it's not nearly as important as the number of leads, sales, or, say, links.
Jevie's post gained us a couple of links from high DA websites–a priceless, priceless commodity as far as SEO is concerned.
"DA", in case you're wondering, is Domain Authority, a score developed by Moz that "predicts how well a website will rank on search engines." This score is calcuated by combining several metrics such as age, authority, popularity, linking root domains. Marketers use Domain Authority when comparing one site to another or tracking strength of a website over time.
Which means, when you get a DA 80+ website linking back to your site, in layman's terms it means you get some of its domain authority transferred on to your domain.
That being said, a post gaining links from a DA 89 website, and some DA 70, 60 and 50 websites, is exactly the kind of stuff that makes us crank up the music and do a dance party around here.
The moral of the story is, gaining page views is good, but getting hundreds of thousands of pageviews is not nearly as important as gaining targeted leads or high authority links. 😉 In doing Content Marketing, keep your bottomline in mind so you're not chasing after vanity metrics and getting yourself disappointed over and over again.
9. Virality is still largely a happy accident.
There are best practices in creating viral content, but in all my years applying and testing best practices, I find that virality is still largely a happy accident.
How cool it would have been to report, "hey, we totally planned this success!" I would have loved to brag about how we intended for this post to become viral, how we strategically sprinkled keywords all over Jevie's post, and carefully picked the right colors for its visual assets, and conducted a real survey to know what those annoying things about designers are, and launched a massive outreach campaign to get high authority websites linking back to us. Yeah? 🙂
Well, we didn't do any of those. Most if it really was just Jevie blogging about something that feels natural and entertaining to her, knowing that other designers–and their boyfriends–will find it relatable, and hoping that it would get passed around online circles.
When you look at it, that's actually how simple Content Marketing is.
But the reality is, most niches are not as fun as the design niche. It's not everyday you can come up with a fun topic when you're working in a, say, highly technical B2B industry.
Just the same, you have to keep churning out strategic, data-driven, informative and relatable content, so that the right people will find their way to your pages. And through the years we have formulated and solidified a strategy that helps our clients do just that.
This is how we roll
We've come a long way since publishing that post. Check out this Success Story below to see how we grew one of our client's blog inquiries by 3250% and improved its overall search engine rankings and authority through a documented SEO and Content Marketing strategy.