We can't blame you if you get too excited about the power of marketing automation. It's indeed one of the best things technology has offered marketers and business owners today.
It does not only automate your manual marketing processes and repetitive tasks, but also helps you achieve (and even exceed) your marketing and business goals.
In fact, it's been reported that marketing automation can drive a 14.5% increase in sales productivity and a 12.2% reduction in marketing overhead. That's why it's no surprise to know that 67% of marketing leaders currently use a marketing automation platform.
While it looks complex and confusing at first, marketing automation is easy and efficient once you get the hang of it. One thing you need to master is how to set up and use workflows for different purposes.
For more facts and figure about marketing automation, read our post: Marketing Automation Statistics 
Marketing Automation Workflows You Must Set Up Now
If you are not setting up workflows, then you are not maximizing the potential of your marketing automation software. Your contacts will be sleeping in your database, and you could be missing out on several opportunities to engage and convert them into profitable customers. 
Using the if/then logic branching logic, workflows enable you to automate a series of actions triggered by your conditions. What's great about workflows is that you can design it to suit whatever goal you want to meet such as lead nurturing, building a customer relationship, or incentivizing repeat business.
Here are powerful marketing workflows you can set up now:
1. Welcome Workflow for New Subscribers or Customers
If you want to make a good impression to new customers and subscribers, then don't forget your welcome email.
When prospects register to your website or sign up for your newsletters, it's your responsibility to greet them immediately with an automated email. It's your best chance to introduce your business.
Aside from your confirmation email, your welcome workflow can contain a series of welcome emails designed to start a long-lasting customer relationship.
For instance, you can familiarize them with how your business works and the next steps they need to take. You can also share your top content to feed their interests and engage them. Inviting them to connect with you on Facebook, LinkedIn, or Twitter can help you build your social media community.
A sample welcome email by Crocs below encourages customers to make their first purchase with a 20% off.
Image source: Vertical Response
2. Abandoned Cart Workflow
Sometimes, customers are just one click away from making a purchase, but for some reason, they would leave their shopping cart abandoned. Too bad, right?
The reasons customers abandon a shopping cart differ. Customers are either not ready to make the purchase or are waiting for the right time. Sometimes, the price is just too steep for them.
Well, it happens. In fact, 74.52% carts were abandoned in 2016. That does not mean your chance is completely lost, as an abandoned cart workflow is your savior.
Setting up an abandoned cart workflow enables your marketing automation software to send an email to these customers to remind them about their unfinished transaction. You can offer special discounts or free shipping to incentivize the action.
Studies said that this strategy works as 44.1% cart abandonment emails are opened, which means hope for you. Just try not to be annoying to avoid turning off customers away.
Check out how Levi's incentivized cart abandoners in this email with a 25% off, which would expire in 2 days.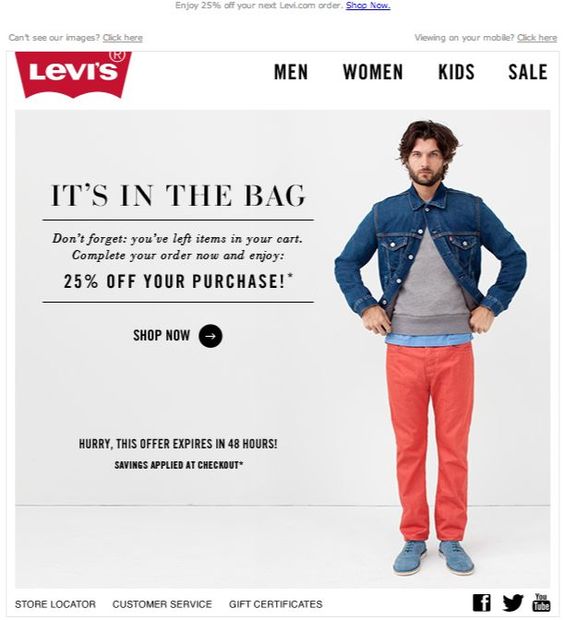 Image source: Mail Bakery
3. Re-engagement Workflow
Some customers may turn cold, and the last thing you want to happen is for them to forget about you totally. Rekindle the romance with your re-engagement workflow.
Statistics show that 45% of re-engagement email recipients and 24% of inactive consumers read them, so there's hope!
Adding inactive customers to your re-engagement workflow enables you to automate emails that will remind them why they first signed up with you. You can send them special offers or coupon codes to incentive excite them again. You can also get emotional and tell them that you miss them.
Don't say goodbye yet. It's not over until it's over – or should I say until they unsubscribe.
Take it from Thrive Market who highlighted how much savings their cold customers had with them.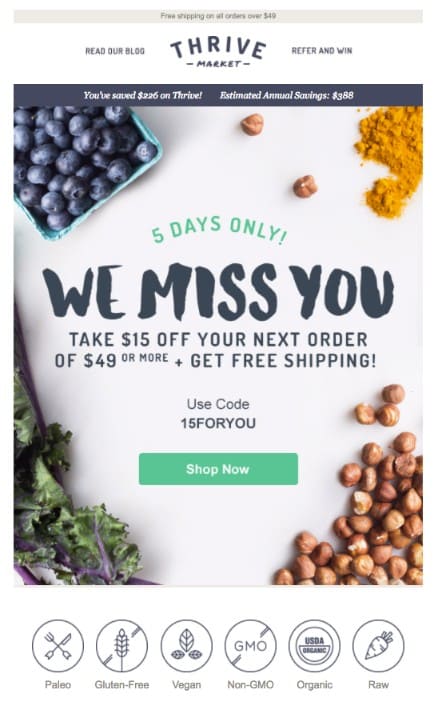 Image source: BEE Editor
4. Post-Purchase Workflow
When a customer converts, it doesn't mean that business is done. Since you already got their trust, build on that and take it as an opportunity to create a long-term and profitable relationship.
Make sure that you have a post-purchase workflow that allows you to ask for reviews and feedback on your product or service. This gesture shows that you listen to customers and that their voice is important to you.
Use their purchase history to upsell and cross-sell. By leveraging data, you can send them personalized offers that match their preferences. 
Remember, new customer acquisition may be important, but customer retention is gold. Aside from the fact that it's cheaper, statistics show that 80% of your future profits will come from just 20 percent of your existing customers.
Here's a great example by REEDS Jewelers: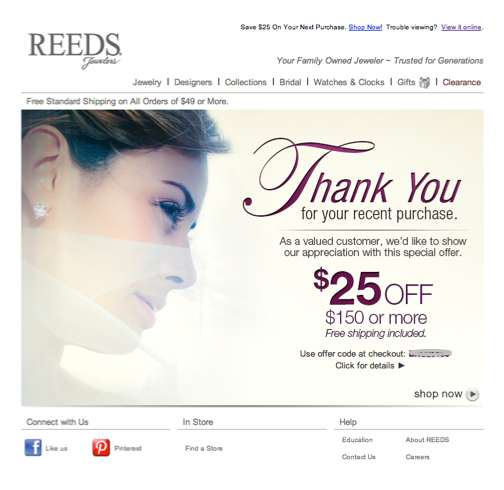 Image Source: Revamp CRM
5. Topic Workflow
If you're using content to turn leads into customers, then a topic workflow is a must-have. Here, you create a trigger that sends a series of automated emails containing content offers related to their topic interest.
For instance, you are a digital marketing firm that offers free ebooks about content marketing, SEO, Facebook advertising, and so on. When a lead downloads an ebook about Facebook advertising, this action should automatically add that lead to a workflow that centers around Facebook advertising.
At Spiralytics, we offer free downloadable ebooks to educate our subscribers about their topic interest. For instance, the example below is our email containing a content offer for subscribers who are into Facebook advertising.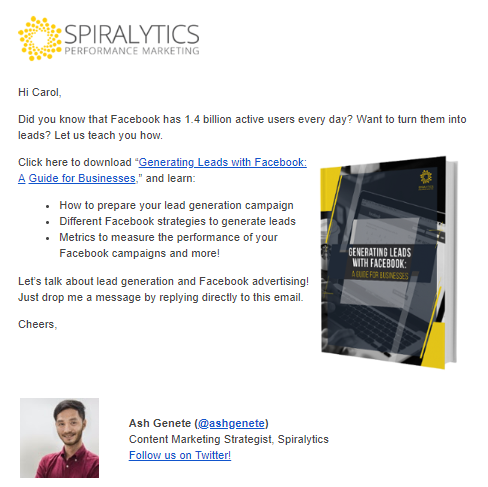 6. Customer Loyalty Workflow
It takes time and energy to gain trust and loyalty from customers, but when you do, it's worth keeping.
With a smart marketing automation workflow, you can make customers feel appreciated and valued. One way to do this is by segmenting repeat customers and sending them special discounts, rewards and privileges, or free access to exclusive offers. What's good with this is that you are not just building customer loyalty, but are also giving them enough incentive to make another purchase.
Majestic Wine did a great job here by sending exclusive invites to their 'loyal majestic customers' to enjoy their special wines.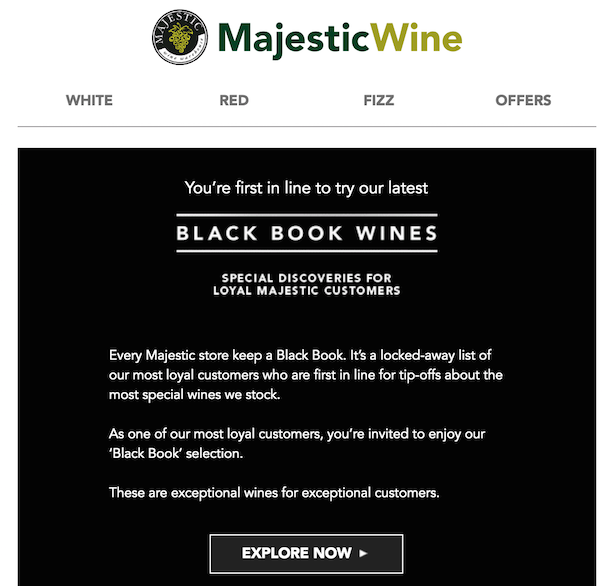 Image source: ClickZ
These are just a few examples of marketing workflows you can set up in your marketing automation software. One of the best things about workflows is that you can design it to meet different marketing goals in any stage of the buyer's journey—from your first contact to strengthening the customer relationship.
Contact us today to learn more about our marketing automation services!