Whether you're a beginner or a veteran in the field of SEO, it's impossible to deny that tools are your best friends. Just like any other discipline in the field of digital marketing, executing a campaign will be a lot easier if you're using the most suitable platforms available.
If you want to step up your SEO game, you should know that it's NOT always necessary to invest in the most popular programs. At the end of the day, it's one's mastery of the platform that counts.
To help you out, here's a list of the best SEO tools you should try out. The best part? They're all free!
Google SEO Essentials
Before you start looking at any other platforms, you should start with the basic ones that Google already provides. For those that are still unfamiliar, here's a list of Google SEO tools and their primary functions:
Google serves these tools on a silver platter and all of them are still being used by some of the best in the business. It's natural to want to explore and experiment with different platforms but before you make any big investment, you should familiarize yourself with these essentials.
OpenLinkProfiler.org
OpenLinkProfiler.org is a free backlink analysis tool that lets you analyze and download the freshest backlinks. You can download data on as many as 100,000 backlinks and easily find the best backlinks that were active in the last 90 days.
As an all-in-one SEO tool, OpenLinkProfiler.org has been around for quite some time. The platform can easily identify harmful links and shows you what keywords are mostly being used as anchor texts. However, where it stands out is its ability to identify your site's all-time linked pages.
You can see which countries are linking to you the most, the domain authority of a backlink, and the industries of the pages that are linking to you. OpenSiteExplorer and Majestic SEO tools are great platforms, but you're limiting yourself if you're only making use of their free trial versions. In the meantime, opting for this cost-efficient alternative will guarantee effective solutions.
Ahrefs Backlink Checker
Ahrefs is one of the most popular SEO tools out there. In as quick as a click, users of its backlink checker will be able to discover the top 100 backlinks of any given website. Its free version is extremely powerful and already allows its users to point out the pages a site links to the most, identifies commonly used anchor texts, and compares domain rating scores.
Ahrefs arguably offers the best backlink database in the business. With over 16 trillion links, 170 million unique domains, and 7.22 billion pages crawled each day, it's no surprise why top companies such as Facebook and Netflix have placed their hard-earned money on this platform. With a backlink index that's updated every 15 minutes, you'll be able to acquire link building opportunities with ease.
Netpeak Checker
Netpeak checker is a unique tool designed for the mass analysis and comparison of websites. You can easily get the page metrics you need and condense all data from all your other tools into one convenient place.
To give you a better idea of its capabilities, here's what it can track:
Page Rank of the Website
Server Information
Indexing
Ahrefs Backlinks
SemRush
Moz Information
Alexa Information
Glued
Mention
Domain Age
Social Metrics & More!
The platform is extremely easy to use and you can download it for free!
SEOquake
Originally, SEOquake was designed to help webmasters perform SEO audits. But over the years, users of the platform have also dubbed it as an excellent tool for link building and competitor analysis.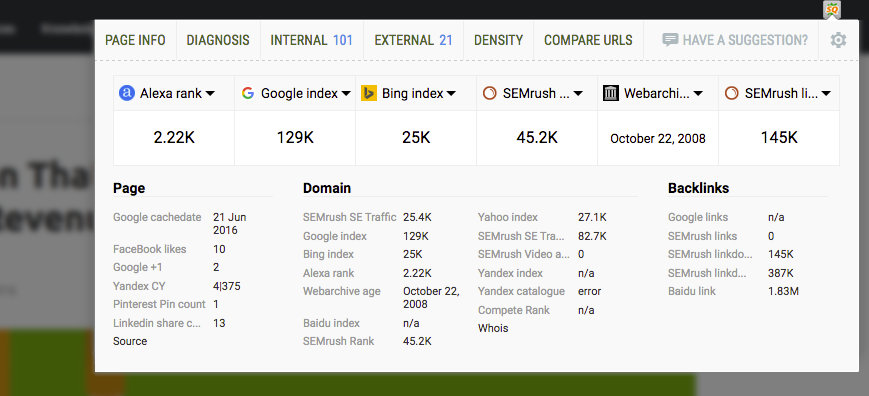 As a free browser plugin, SEOquake allows you to obtain and measure analytical data from any website. Its Internal and External Link reporting capabilities can instantly find existing links on a page and its Keyword Density Report feature can help you discover the target keywords of your rival businesses. Having these bits of information in mind can ramp up your overall link building strategy and help you outpace the competition.
Screaming Frog
Finding technical problems on your site just became a whole lot easier. Screaming Frog is one of the most popular platforms webmasters use for conducting technical website audits. Even though you may need to pay to gain access to some of its features, its free version allows you to download and crawl up to 500 URLs for free.
This tool examines your site and generates a report of potential issues. Users of the platform can effectively identify broken links, discover duplicate content (which Google absolutely hates), and integrate other tools such as Google Analytics to gain better insight.
If you're constantly dealing with a number of small audits, this tool should be perfect.
Auditmypc.com's Sitemap Generator
For handling bigger projects, Audit My PC's Sitemap Generator is a great alternative to Screaming Frog. This tool is perfect for start-up or outsourced web development companies since it can easily find technical issues that may affect a site's ability to rank on the SERPs
ScreamingFrog can do quick technical audits, but it's important to note that the free version only crawls up to 500 pages. With Audit My PC's Sitemap Generator, there's no limit to the pages it crawls. Here are some other notable SEO benefits of this tool:
Deep crawl of all the pages in your website
List of title tags of all pages
List of error pages
Inbound and outbound links of every page
Ubersuggest
Ubersuggest has the power to double your website's traffic (apparently). If you want to rank for a certain keyword, this platform will give you all the necessary data such as keyword difficulty, cost-per-click, and periodical search volume. In case your desired keyword is too competitive, the website will automatically suggest alternatives based on your previous inquiries.
The free platform boasts several features that are found in paid SEO tools. By knowing which keyword strategies are working for others, you can use the data you've acquired to boost the ROI of your campaigns.
SEMRush
SEMRush is undoubtedly one of the best tools in the market. The suite is an all-in-one SEO platform but what sets it apart from other programs is its ability to provide accurate competitor data. It's able to find the exact keywords other businesses are using and you can use this information to get hold of new keyword opportunities and drive traffic to your page.
Its free trial certainly has its own set of limitations but it's extremely capable nonetheless. With a user-friendly interface, even beginners of SEO and SEM can master this platform with ease. A favorite amongst many a webmaster, SEMRush is definitely a tool to be reckoned with.
CanIRank?
CanIRank is one of the best SEO software for SMEs and startups. In the process of ranking up in the SERPs, most free platforms will just tell you if a keyword is too competitive or not. But since this tool makes use of artificial intelligence, users of CanIRank can acquire data-backed recommendations on how to improve their rankings.
The platform comes with several plans to suit different budgets. Ranging from 49$ to 299$ business owners can acquire timely and relevant data to improve the efficiency of their SEO strategies. But if your demands aren't too big, settling for its free version is already good since it has no time limit and can perform a wide array of functions.
Win Big in SEO
The SEO landscape is an ever-evolving field. Over time, developments and updates in the industry will continuously transform the effectiveness of platforms and practices. Staying up to date with the best tools available will ensure your efficiency as a specialist and your company's relevance in the years to come.
However, if SEO isn't one of your company's main competencies, you might want to look for solutions that lie outside your organization. If you're looking for an agency to handle all of your SEO needs, our company will be more than glad to assist you.
Contact us today for more details!