How We Achieved 1,233% Monthly Lead Conversion Growth for Shegerian & Associates
Do you know the best strategies to capture and convert leads? Read this case study on how we grew Shegerian & Associates' lead conversions!
increase in monthly
lead conversion
lower cost-per-lead in a
month
lower cost-per-acquisition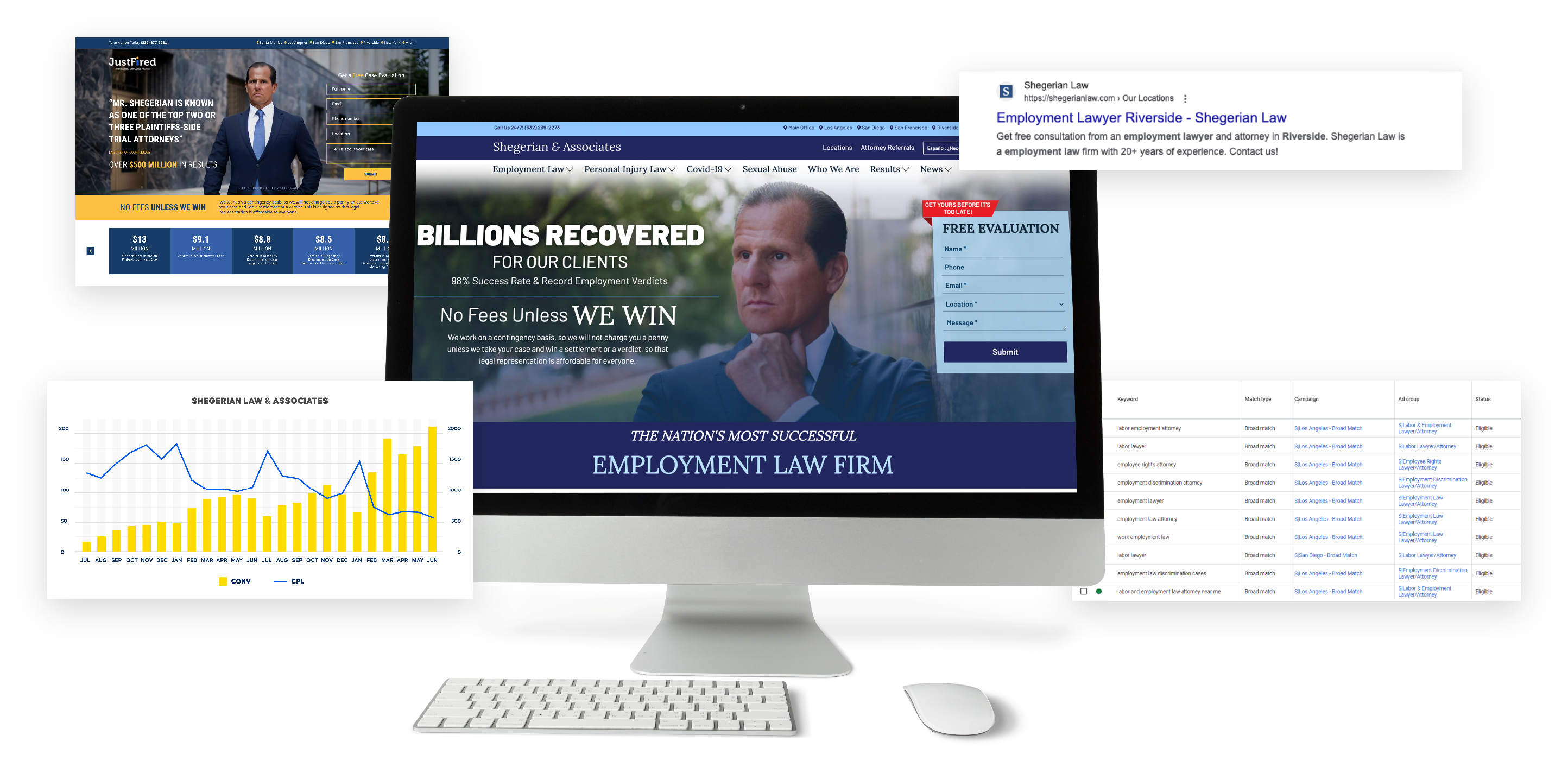 Shegerian & Associates provides legal counseling and client representation, taking on cases under the scope of employment, personal injury, and sexual abuse. With decades of experience up their sleeves and through zealous advocacy for client rights, Shegerian & Associates earned a reputation as "The People's Attorney," empathetically guiding them through the legal process.
Industry: Legal Counseling
Locations: Los Angeles, California, USA,
San Diego, California, USA,
Riverside, California, USA,
San Francisco, California, USA,
New York, New York, USA
Increasing the Monthly Lead Conversions for Shegerian & Associates with Search Engine Marketing
Shegerian & Associates reached out to Spiralytics to help ensure they stay relevant to their target audience. Through a series of customized SEM strategies, our team helped them achieve their lead generation goals at a fraction of the cost.
Download our Shegerian & Associates case study to uncover the secrets behind Shegerian & Associates' SEM success and how an optimized strategy can help you supercharge your sales funnel.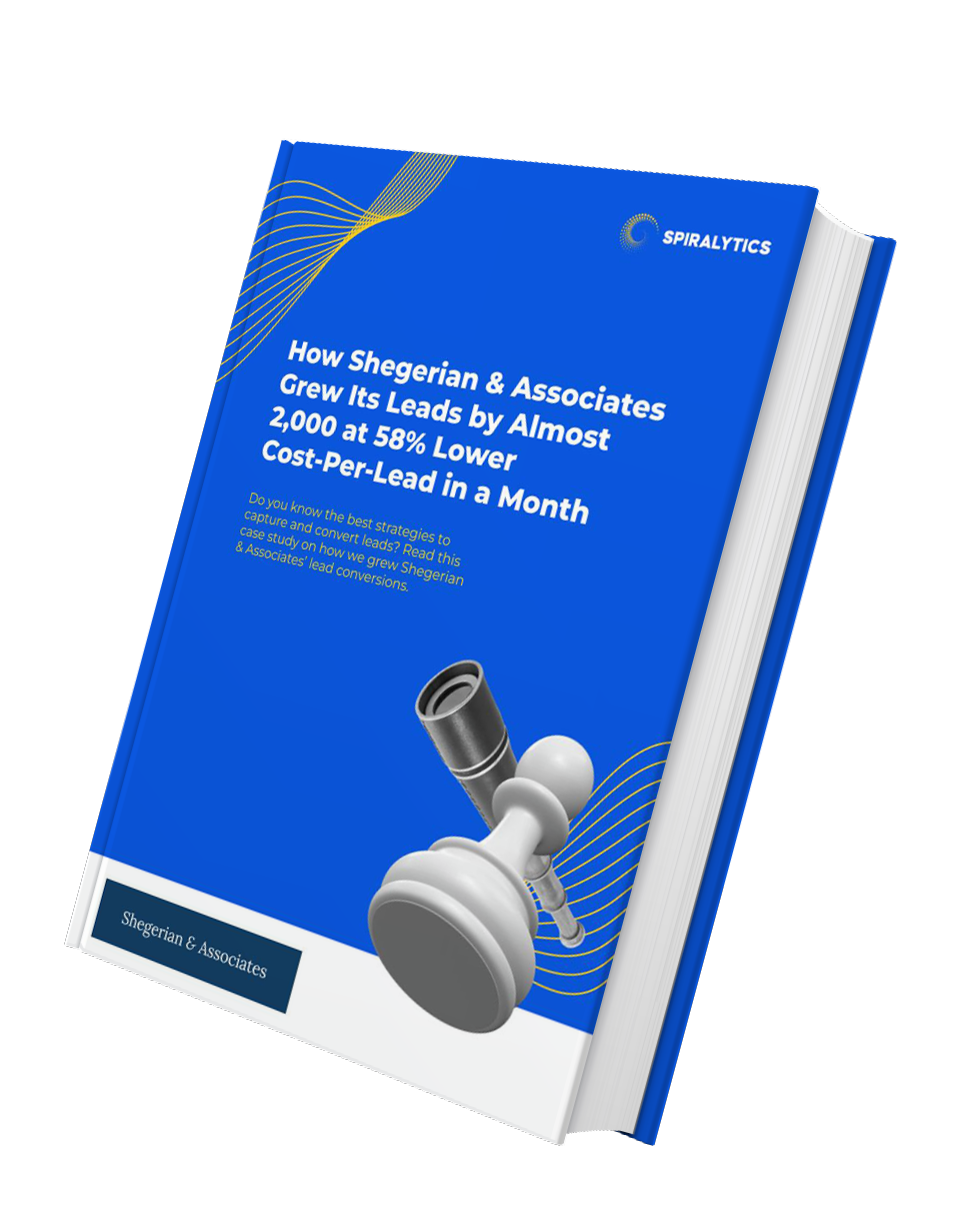 After working with a different agency that didn't deliver their goals, Shegerian & Associated partnered with Spiralytics, Inc. to help increase leads and, ultimately, conversions. The catch was to arrive at a point where their numbers increase consistently, but their cost-per-lead decrease.
Spiralytics worked on various strategies to help them get the most leads and conversions but with the least cost.
Spiralytics first created a landing page to target the client's audience and increase their lead conversion. Secondly, we performed a broad match strategy to ensure that ads would appear on wider yet relevant searches. Spiralytics used keywords that would have made gaining traction on the client's website easier.
Thirdly, the bidding strategy experiment allowed the client to shift from manual CPC to get more conversions at a lower cost-per-acquisition. This significantly improved the overall performance and eliminated the need to adjust bids manually.
Lastly, budget allocation was optimized to ensure that the budget was spent on campaigns that drive the most conversions with the lowest possible total cost-per-acquisition.
Overall, we saw a significant increase, not just in conversion but in cost savings, as well. With the first strategy, Spiralytics implemented a landing page strategy that increased lead conversion. We added a form submission on the landing page itself instead of redirecting to the contact page, shortening the time it takes to convert site visitors. 
Secondly, the broad match and bidding strategies resulted in a 54% decrease in cost-per-acquisition. Lastly, the optimized budget allocation resulted in 39% more leads at a 58% reduced cost-per-lead for Shegerian & Associates.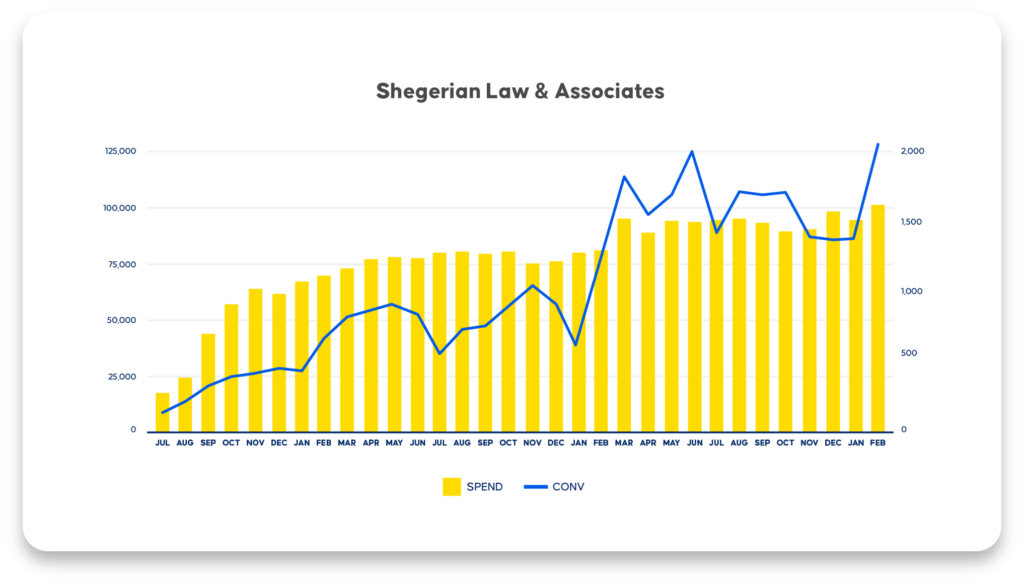 Improve Your Digital Marketing Performance
Let us help you transform your online presence and achieve your goals.